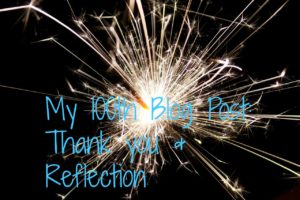 This is my 100th Blog post! Woo Hoo! It really doesn't seem like I could have written a 100 post, but here I am. I think this is cause for celebration.
Many blogs get started, but how many actually get to 100 posts? I'll be honest, I started blogging as bit of a hobby. I knew it was something I enjoyed doing, but had no idea how much it would take over my life. My blog is like my third baby, I am nurturing it and helping it grow.
So, what have I learned from writing 100 posts? A lot! When I started I had no idea about self hosting, blog linky's, how to share posts properly and just how much work really goes into blogging. As I have gone through my blogging journey my posts have improved. When I look back at some of the old ones I hang my head in shame lol.
I tried to be funny with my blog bio and first, but then realized it made me sound like bit of an idiot. Hopefully, now it makes me seem like a semi normal person :). In general my writing has gotten better, I think I have found my voice.
As well as the writing improving, my use of pictures has definitely gotten better. In a lot of my early posts I hardly ever used pictures at all. I now know how vital they are for a post.
I have also now done my first giveaway post (you can see that here). This was quite a big thing for me as it meant someone wanted to work with me and I knew it would be great for blog growth. In the future I would love to do more of these.
And now to thank those who have supported me along the way. My hubby and daughter have a great support. Hubby has always told me that he believes I can make a success of things and this has been a great boost when I have been doubting myself.
Booey has been great as many of the things I write about involve her. She helps with taking photos, comes on days out with me and has a million and one ideas for posts (most of them unusable, but she tries lol). Booey has been vital to what we have done on YouTube. Her smiley face and infectious personality make our videos what they are. Thank you Hubby and Booey.
I better mention my son or I will never hear the end of it. Ben Bob (that's his YouTube name) has helped me a lot with video editing. If it wasn't for him they would be  a right mess, thanks Ben Bob.
Also getting a mention here is Tracey from One Frazzled Mum (onefrazzledmum.com). She has answered all my blogging questions and helped me when I have needed advice on programmes etc to use, thanks Tracey!
So, cheers to 100 blog posts and the 100's yet to be written!
Take care everyone.