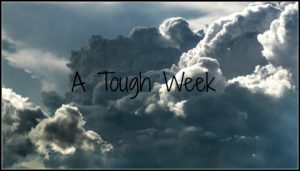 This week is going to be a tough one. It's been on my mind for the last couple of weeks, I have found it hard to concentrate or be enthusiastic about anything.
On Thursday it is my dad's birthday, the first since he passed away at Easter. It is hitting me a lot harder than I thought it would. I still find it very hard to believe that he is not here, it's still not real.
Last year, we knew it would probably be his last birthday with us, but as he was there I couldn't imagine him not being there. His birthday came only a month after his brain tumor/cancer diagnosis. Celebrating his birthday was hard, but we went out for a lovely meal and dad was in good spirits considering everything.
After Christmas his health problems got worse and we were told the time he had left with us was a lot shorter than originally thought. He passed away on Easter Sunday.
Since then my world has felt like there is something huge missing, I am still dealing with my grief now.
As if that wasn't enough, my son needs to go back to Bristol eye hospital as he has some inflammation in the back of his eye. Just when we thought we could relax and he was ok, we got hit with this. And of course, his appointment is on Thursday.
My ex husband is going to take him to his appointment for me so that I can visit where my dad's ashes are scattered and spend time with dad's family. I am lucky that I have people in my life that will support and help me with everything.
Thursday is going to be hard, but I want to try and use it as a time to celebrate my dad's life and the love he had for us all.
Take care everyone.
div align="center">