Yesterday we were lucky enough to go on a riverboat cruise for Hubby's Nan's 90th birthday. It was all organised by Hubby's uncle. And what a lovely afternoon it was.
It was a surprise, she knew nothing about it and was very happy to see us all there. We all chatted for a few minutes before boarding the boat for our little trip.
The boat slowly made it's way down the river. Although it was rather cloudy, the views were still very lovely. There were a lot of swans, ducks and other birds along the river, as well as some lovely plants and trees. I was surprised at how relaxed being on the boat and just watching the river go by was.
We were allowed to go up on the back of the boat to where the captain was on the tiller. Again, it was very relaxing standing there watching the world go by. I wasn't sure if I would enjoy this or not, but it was a lovely afternoon.
Halfway through the trip the boat moored so that we could get off for a few minutes and take pictures if we wanted to. We all decided this was a great time for the birthday girl to blow out the candles on her cake.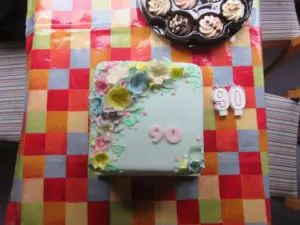 Then we also toasted the birthday girl with a lovely glass of bubbly (first drink for me in a long time lol).
The boat trip itself was perfect for this type of occasion. It gave us all plenty of time to catch up on all the family goings on as well as having a lovely afternoon. I would definitely recommend this and now have a new outlook on boat trips (well river ones anyway).
Hopefully the next time we do something like this the sun will be shining too.
Take care everyone.