This last month seems to have passed quicker than the rest. It is the end of the summer ad September brings the Autumn weather. Thankfully it has also bought my blogging mojo back with it. I am feeling a lot more positive about things and have a lot of posts that I am working on right now which is great.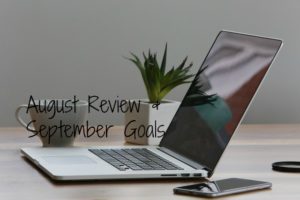 As I said, my blogging mojo is back. I still didn't write as many posts as normal this month, but that was mostly down to it being the holidays and wanting to spend time with Booey while I could. There are a few posts that I am working on at the moment and also have a couple of videos that will be going up soon. My organisation skills are surprising me right now lol!
I have one post I am working on as part of another Britmum's challenge and I am also talking to someone about doing a post for them as well. These things are really exciting me at the moment. I can see my hard work paying off and really see my blog turning into what I want.
At this time of the month I see a lot of posts from bloggers about their goals and their income for the month. My aim now is to get to a point where I can add income stats (even if they are small!) into my goal posts. It will be a while yet before this happen, but I think it is good to have something to aim for.
Now onto how I did during August.
Write a proper media kit – I didn't do this. I have downloaded some sample kits and have read quite a few posts about making a kit. I want to get some practice in with using Canva (see my new goals) before I make my media kit.
Write an email template for contacting brands – Done! This is going to save me so much time when I am approaching brands for possible collaborations. Obviously I will adjust it to suit each brand I contact, but I have the base of the email down
Get back to writing 3 posts a week – This was a fail. Like I said, with it being the holidays I was spending time with Booey so didn't write as much as usual. This should change once Booey is back at school.
And what do I want to achieve this month?
Get better at using Canva – I have seen some great media kits and Pinterest images made with Canva. So I am going to watch some video tutorials etc and practice using it so that I can make some great images myself.
Write my media kit – Once I have had some practice with Canva I am hoping that I will be able to make my own media kit. I know what information etc I want to include, I just need to make it all look pretty lol.
Be brave and contact more brands – I do lack a bit of courage when it comes to contacting brands about collaborations. I know that not every brand will want to work with me, but I guess I worry that no one will want to work with me lol. I have done a few little collaborations now, so it is time to be brave and see if I can do more.
So there you have it, my goals for September. Now that I am back into a routine I think I will be able to achieve a lot this month, watch this space lol!
 Have you set yourself any goals this month? I would love to hear them.
Take care everyone.