Yes, Autumn is here. It is time to pack the summer clothes away and opt for warmer options. To me, this time of year seems like things are coming to an end. It's goodbye to summer and the warm weather. The nights are getting darker and the cold is beginning to hit.
It is not all bad though. The changing colours of the leaves and Halloween are there as well. I love all the changing colours at this time of year, they are so pretty. And of course the cold dark nights are just made for spending the evening cuddled up watching movies with your family.
My summer wardrobe consists of jean shorts (knee-length, I am not that brave lol), jeans, vest tops and t-shirts. I very rarely wear dresses. If you see me in one you know it is a special occasion lol! I think my style seems boring to some but I am happy with it. I am not going to wear things just because others think I should.
Most of my t-shirts also make it into my Autumn/Winter wardrobe. I wear them with a plain long sleeve top underneath. I love that I can do this as I have some cool t-shirts that I hate to have to put away until the warmer weather returns.
One thing I love about the colder weather is jumpers. I do love a nice warm jumper. There are so many styles to choose from, everything from gorgeous going out jumpers to lounging at home ones. I have some lovely jumpers at home, but I think I could do with a couple more (you can never have enough jumpers lol!)
I thought I would share with you some of my favourites that I have found this year.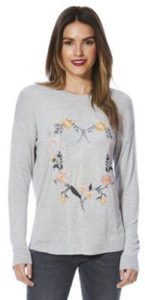 F&F clothing was something I only used to buy for the kids, but I am finding more and more things there for myself. And being linked to a supermarket, the prices are great too. This soft grey patterned jumper is simple but very cute. I like that it is not too thick, but has quite long sleeves. It's casual, but I think could be worn if going out with friends too.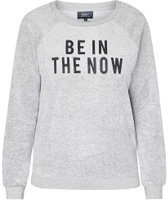 For around the house (and I suppose casual outings) I love this "Be in the Now" sweatshirt from Dorothy Perkins. I love the relaxed style and the slogan jumped out at me too. It is a great sentiment to have. Dorothy Perkins has some lovely clothes at the moment. It is definitely a shop I think people overlook when out shopping.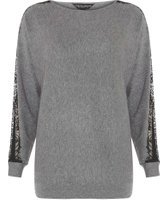 Also from Dorothy Perkins is this lovely grey jumper with lace sleeves. This is definitely more for going out than keeping warm, but it is so cute. I love it.
And finally, a little something for Halloween! The "Trick or Treat" jumper from Simply Be is perfect for Mum's who are taking their kids trick or treating and don't want to dress up themselves. The little pumpkin face is cute, I would love to have a t-shirt with it on as well.
I cannot wait to start getting cosy in my jumpers and warmer clothes. And I can also start getting the fleece blankets out for the sofa, Yay!
What is your favourite item of Autumn clothing?
Take care everyone.
This post contains affiliate links. If you purchase items through them I may receive a commission at no cost to you.