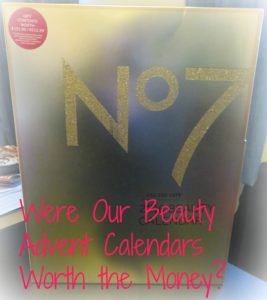 Last year I saw a lot of blogs talking about beauty advent calendars. I didn't really pay that much attention to them as I thought it was something I wouldn't really want. How wrong was I!
In February, I won a £200 Boots gift card. Since then I have become a bit addicted to buying No7 products. I have bought make-up and skincare products from the range and loved them all. So much so that I had to take a separate bag for them all when we went on our little holiday, oops.
So, when I began to see posts popping up about beauty advent calendars I made  asked my hubby to get me one as part of my Christmas present. Being the good hubby that he is, of course he got it for me.
When it arrived I was delighted with how it looked. Folded like a book, all gold and shiny. I opened it up to reveal 25 doors all laid out on a black background with a city lights overlay. It looked stunning. But then I had to wait nearly a month before I could start opening it!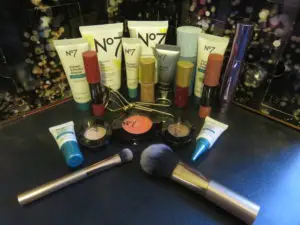 I have been very happy with all of the products that I have gotten so far (still a few doors to open). Everything is beautiful. There are products that I have used before and some I have yet to try. I am going to be having a lot of fun over Christmas trying everything out, it is definitely going to be pamper time.
One of the doors had a little card behind it which you take into Boots and they colour match a blusher to your skin type and you then get that blusher, I thought this was a lovely touch, it meant I had a colour that suited me instead of being too bright.
All in all, I am very happy with the calendar. I think it was worth the £40 cost as what you got inside exceeded that value. I will definitely be getting another one next year.
Booey also decided she wanted something a bit different for advent this year. I spotted the Wilko beauty calendar in November and thought it would be perfect for her.
She was really happy when I gave it to her. All of the bits that have come in it have been perfect for Pre-Teens who are just starting to get into using makeup. The nail stickers are really cute and she loved the mini eye shadow palette and lip glosses.
And it turns out, a lot of her friends got this calendar too and they all love it. It was really nice to give her something a bit grown up like this, I wish I had had something like this at her age.
The calendar cost just £5 which I thought was great value. Usually these types of things are not affordable for her age, so well done Wilko!
I think it is safe to say that we will both be wanting these calendars again next year, watch out hubby, next year might really cost you! Lol!
Take care everyone.