On Saturday, we went to London for the day. Normally I would spend weeks (or months lol) planning a trip like this, But this time I only had a few days. This was due to the fact that I won tickets to see a preview screening of the  animated movie Rock Dog. As the screening was at the Vue cinema in Piccadilly Circus, London, we decided to make a day of it.
When we got to the cinema we were greeted by two lovely little dogs (don't ask me what type I am rubbish with things like that lol!). Booey and her friend loved stroking and playing with them. If she had a chance I think she would have tried to take one of them home!
Before the film started there was fun in the foyer. There was balloon modelling and face painting which both girls loved. We then took our seats for the movie. There was a bag of popcorn on each of our seats which the girls (and hubby) loved. I thought it was a lovely touch.
The movie was great. It was really funny and had some great characters. It is a great film for families. Booey and her friend thought it was brilliant and were really glad that we got the opportunity to see the movie.
After the movie we walked through Piccadilly Circus to M&M World. Booey and I have been there before, but we had to go in there again as we were there. I love the smell of chocolate you get as soon as you walk in there. Booey's friend had never been, I don't think she could believe her eyes! We even saw giant M&M's dancing lol.
Then we walked across the world to the Lego store. We saw a programme at Christmas about how they put everything in the shop together, so it was good to go and see the store in real life.
The displays there are amazing! I don't think my pictures really do it justice. We all enjoyed looking around the shop, hubby was like a little kid in there lol!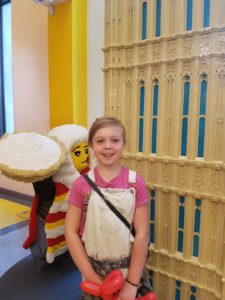 After having some lunch, we got the tube to the Natural History museum. We have been here a few times before, but I don't think I could ever get bored walking around there. We always seem to notice something new whilst there.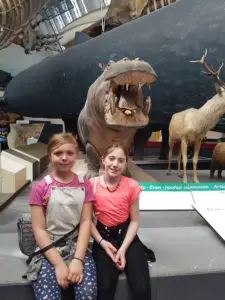 Unfortunately we only got a couple of hours in there as we had to leave to get home, but it was a couple of hours very well spent.
I would have loved to have stayed the night in London so we had more time to look around, but I had to work on Sunday.
We had a wonderful day and got to see a great movie. I can't wait for our next visit to London.
Take care everyone.
div align="center">