For our last day out of the summer holidays we decided to go to Monkey World. Booey loves watching the tv programme about the park, she has a lot of episodes of it downloaded to the Virgin box! When we told her that we were going to go she was very excited. For the week before we went she told us facts about Monkey World, names of some of the Monkey's and where they were rescued from.
For those of you that don't know, Monkey World is an ape rescue centre. The park first opened in 1987 to rescue and rehabilitate beach chimps from Spain. Since then the centre has grown and they rescue many different species of monkey's from all over the world. Monkey have come from circuses, laboratories and even from being kept as pets. Monkey World works with governments to stop illegal smuggling of monkey's out of Africa and Asia.
I think the work that they do at the park is wonderful. These monkey's have been given a new lease of life in lovely conditions.
We arrived at the park for when it opened (10am), if Booey had had her way we would have been there much earlier lol! The park is very well set out and it was very easy to find our way around.
You had great views of the chimps and other Monkey's, although some of the smaller ones were hard to spot. I loved this guy (pic above), he had a handful of what looked liked biscuits and found himself a quiet corner to eat them before the other chimps saw him. He wasn't even put off by all the people walking by and watching him lol!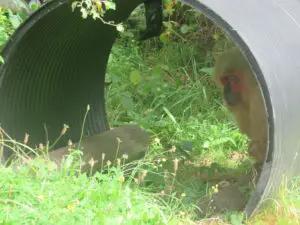 The park itself is lovely to walk around, we took the woodland walk to the far end of the park which was really nice. At the far end is a huge play area. There are lots of things to climb and swing from. Booey had a great time playing here whilst hubby and I had a sit down and a drink.
There are plenty of benches to sit on around the park, a great choice of where to sit and eat your lunch.
Tunnels (I know that's the wrong word) connect some of the enclosures. There are a few overhead ones for the smaller monkey's. This little fella was shrieking at us as we walked under him!
The Lemur enclosure is great fun to walk around. You are actually in there with the Lemur's. We all loved this! There are keepers in here all the time to make sure that the monkey's are not harressed at all. They seemed very happy wandering around with the people, some of them even showed off jumping around.
We had a great day at Monkey World. If you are an animal lover this is definitely the place for you. There is so much to see. If you are in Dorset I definitely recommend you check Monkey World out.
We also made a video of our day here.
For more information visit the Monkey World Website.
Take care everyone.