I have seen a lot of posts about decluttering over the last year or so, but haven't really taken much notice of them. I mean, who needs more cleaning to do right? But over the last couple of months I have watched some YouTube videos by Katy from What Katy said. She basically deluttered her whole house room by room (a different video for each one). After this she said how she had felt a little lost in herself, but how sorting her house and life out had made her feel so much better. I was inspired.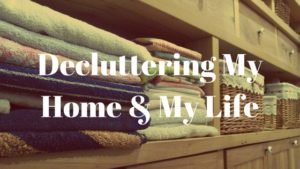 Now, those of you that know me well will know how much I hate cleaning. Is it really something that anyone actually finds fun? But, I thought if I started this bit by bit then it might actually be achievable for me.
I started with my bedroom and wardrobe. My dressing table had become a dumping ground for so much stuff. Letters, magazines, clothes, make up and anything else I could fit on there. I hated it as I could never actually find what I wanted. I sorted all the paper work I had and put it into boxfiles and trays and stacked them on a shelf. Just doing this made a huge difference to how things looked.
The dressing table took me about 3 hours to sort. I got rid of a lot of make up and bits that I didn't need. Then I took everything off the dressing table so I could give it a good clean. I even cleaned all my make up storage drawers. It looks so good now and it has stayed clean and clutter free since.
Here is the video I made about decluttering my bedroom and dressing table.
As well as this, I cleaned out my wardrobe. There were so many clothes in there that I haven't worn for a long time. It was time for them to go.
Now I am doing the same in all the rooms in the house. Some of them don't actually need much doing to them, but I want to do them all so that everything is easier to tidy. There is a lot I am throwing out or taking to the charity shop. I didn't realise how much unnecessary stuff I had.
Having the house more organised is making me feel really good. I am not stressing about mess or where I am going to put stuff, it all has its place. It really is surprising me the great effect it has had on my mood.
So much so, that I have decided to kind of apply this to my life as well.
I have started wearing make up a lot more. Not just a bit of eyeshadow or mascara, I have been making my whole face up. This is something else that I picked up from Katy. It makes me feel good to do this, so I am making the time to do it. I have also been painting my nails more often, I am feeling very glam lol!
I am writing a list everyday of the things that I want to achieve and I am sticking to that too (well, for the most part). Being more organised has given me more time to do the things that I want to do.
I have also decided to have less time for other people's drama. I will still be there for my friends when they need me, but any un necessary bulls**t I don't want to know about.
If there is something or someone who I don't need in my life anymore for whatever reason it is going. That might sound a bit harsh, but I want to be happy. I want my family to be happy. If things/people are dragging me down this won't happen. It is time to live for me and my family!
Have you decided to declutter things at home? How did you feel after doing it?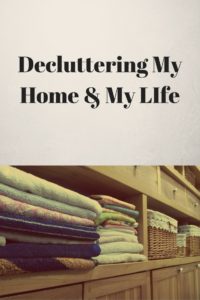 Take care everyone.