2017 has been and gone! Didn't it just fly by. Although I am writing this in 2018 it is the last empties post of 2017. I have really enjoyed writing these empties posts over the last year or so and I can't see me stopping writing them for while (not with the amount of make up and bath products I am hoarding lol!). And hopefully you all enjoy reading them too!
During December I had the Soap & Glory advent calendar, it was filled with 24 lovely beauty treats. I have used some of them already, but I have talked about them in my review of the calendar (click here to read it). Some of the bits from the calendar will probably end up in one of these posts too. I did also get quite a bit of Soap & Glory stuff for Christmas, as well as some other bath bits, my stash is growing!
Onto what I used in December.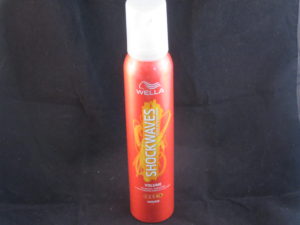 Usually I buy cheap hair mousse from the supermarket, but I saw this Wella shockwaves one in B & M (I think) and it wasn't too expensive so decided to give it a try. I have real problems with my hair at the back, it sticks up and rarely does what I want it to, so I need a product to make it behave. The shockwaves mousse was great. It wasn't sticky, I didn't need to use too much and it kept my hair where I wanted it. I was quite impressed with it. I have already bought another one, this will be something I stick with for a while I think.
As you all know, I love me some Radox! This shower cream I have had for quite a while, I am not actually sure whether it is still available or not! It is made with fig and neroli oil, and it smells lovely. There were little seed bits in it (there is even a warning on the back to tell you it's not food in case you get confused!) which were nice for exfoliating. My skin felt lovely after using it. If I manage to find it I will buy it again.
Booey has got me into buying Impulse sprays again. I used to buy them a lot when I was younger, but over the last few years I have opted just to wear perfume. But I have to say it has been handy having one in my bag or my locker at work. I picked this one as it just looked like something I would like. It smells really nice.
I got this No7 Dramatic lift mascara in a gift box  that came with another No7 product I bought. This is only a mini version. but I have used the full size one before. I love this mascara, it lengthens my lashes and they look amazing. Also it doesn't rub off on the skin under my eyes, it stays where it should. I have somehow ended up with 6 mascaras now so as much as I like this one, I am going to use them up first.
And finally its RIP to my Avon colour trend eyeshadow duo. A couple of days ago I dropped it and the brown half shattered into a lot of pieces. I was so annoyed with myself, this is my favorite eyeshadow. I do have another one, but it's annoying that I ruined it before it was finished. Why am I so clumsy?
Again, I have used some lovely things this month. With everything in my stash and what I got for Christmas I have enough for empties posts for at least a year lol.
Have you been using anything good lately?
Take care everyone.
Disclosure: This post contains affiliate links. If you click-through them and buy something I may receive a commission at no cost to you.