It has been a couple of months since the last Men's special empties post ( you can read the last men's special here), so I thought I would do another one. Ben Bob has been using pretty much the same things as before, so nothing from him this time. Luckily, hubby still has a few things that he has gotten for Christmas and his birthday. So a few different bits from him still.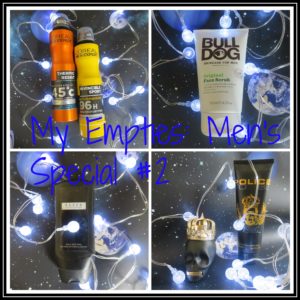 Hubby has a small stash of products to use that he got for Christmas and his birthday. It is nowhere near as big as my stash, but he still has a few things to get through.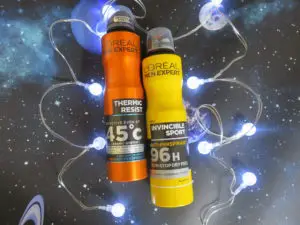 The L'oreal men expert antiperspirants have gone high-tech (well to me at least lol)! Invincible sport gives you a non-stop dry feel for 96 hours. To me that sounds like a long time without a shower. But if you want it to last it does, well according to hubby anyway. He said it really did keep him feeling dry all day. He also said that is wasn't sticky at all and didn't leave any powdery marks. The thermic resist 48 hours antiperspirants boasts heat rush sweat protection. Again this one kept hubby dry and smelling fresh. He likes these both a lot. Even though they are slightly more expensive than other antiperspirants he has bought them again. Sounds like a winner to me!
Hubby had been looking for a nice face scrub for a while when I saw the Bulldog brand reviewed on another blog. It sounded good so he gave it a go. It is packed with essential oils, oat kernels, shea butter and olive seed to help gently exfoliate skin. Hubby loved it. His skin felt nice and smooth after use and it didn't make his face sore at all. A plus for him was that it didn't smell girly lol! As he liked him I bought him a few of the products in a gift set for Christmas.
I bought the Elite Gentleman hair and body wash from Avon to make up an order I had placed (quite a while ago I may add). It sounded very posh and sophisticated, so I thought lets give it a try! It contains verbena enhanced with rich cardamom and refined woods, it smells divine. I liked the scent so much I have since bought him the aftershave too. Hubby said he would use this again, but it did make his hair a little dry after. This is on the maybe we I'll buy it again list (if of course Avon still do it).
Now for my favourite on this men's empties list. The Police: To Be King gift set. I first bought hubby another Police aftershave about a year ago, namely as the bottle was in the shape of a skull. I love skulls! Thankfully, it smelled really nice. So much so that I have bought him 2 more since. I bought him this set for his birthday. He has finished the hair and body wash off, but there is still a lot of aftershave left. He really liked it. The only problem is that we can't find the body wash to buy on its own, it's only in gift sets. I will definitely get him more if I can find it!
Well, I hope you have enjoyed my second my empties, men's special post. As hubby uses more products I will write about them, here's looking forward to the next one!
Take care everyone.
div align="center">