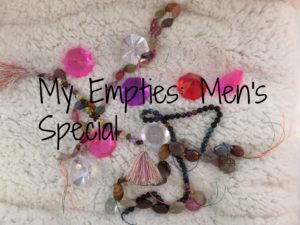 For the last six months I have been writing posts about the beauty and bath products I have been using. But with two men in my house (hubby and Ben Bob) I thought it would be good to talk about what they use to. They both like to smell nice and Ben Bob spends what seems like an eternity in the bathroom most mornings. Just with the stuff he uses in a couple of months I could do another men's special lol.
Hubby bought the Lynx Sports blast 2 in 1 for the gym. He wanted something quick and easy to use after a workout. This left his hair and body smelling fresh and didn't make his hair feel dry at all. I thought it smelled quite nice too. He would definitely use this again.
Ben Bob quite often uses the Radox feel awake shower gel (again, good old Radox lol). He uses this on his hair too. Ben Bob likes something that smells "manly", this doesn't have too strong of a smell, but you can tell it is for men. He keeps going back to this one so it must be good. Ben will not use anything he doesn't like.
I bought both Hubby and Ben Bob some of the Lush face wash jelly for Christmas. They both loved it. It is more like marshmallow than jelly, you pull a bit of it off then rub it on your face and it lathers up. Ben Bob said it made his beard feel nice (it was barely a beard at the time but we humoured him). I will probably treat them to this again next Christmas.
You cannot really tell from the picture, but this is a tiny trial tub. We got it free from Boots with the o2 Priorites app. It is like gooey putty, it looks gross to me, but hubby really liked it. So much so that he has bought a full sized tub. Hubby spikes his hair up when we go out and this holds the style well and you don't need to use too much of it. This is probably going to be his hair product of choice now.
Now, I don't think the Lush Twillight shower gel is a men's specific product. It was in with the few things that I had gotten from Lush and as it was a dark purple colour hubby asumed it was for him. He used it on his hair and body. It smelled of Lavender and malt notes (?). It was really nice to use before bed as it was very relaxing. I am a little annoyed that he used it all!
Ben Bob recieved this Bayliss and Harding set for Christmas. I love going in the bathroom after he used it as it smelled so nice. The citrus and lime aroma was fresh and would wake you up if you were feeling a bit tired. Again, he used it on his body and hair, and he hasn't moaned about it so it must be good lol. He went to buy some for himself, but changed his mind when he saw how much it actually cost!
I hope that you enjoyed this men's special and it has given you a little idea on some things the man in your life might like.
Take care everyone.