As we come to the end of another month, I have also come to the end of some lovely products. A lot of you seemed to like the body scrub that I featured in my last empties post (you can read that here if you missed it), hopefully you will find something you like in this months post too.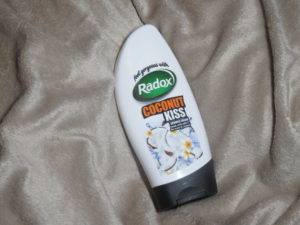 I received Radox's coconut kiss as part of a set last Christmas (yes I really am still working my way through a lot of stuff!). This has been used in the shower at the gym. It smells absolutely delightful, very coconutty. I feel very fresh after using it which is what I really need after a good workout. My skin doesn't dry out using this either which is great.
Classique D'or, may sound classy, but it came from a pound shop. I have a few of these cheap perfumes for wearing at work and day to day. Using my "expensive" perfumes for everyday is something I hate. I'm one of these people that saves such things for special occasions. Classique D'or actually smells quite nice. It reminded me of Charlie Red. I am actually sad it is gone.
Good old Radox again. I think at some point I have used every Radox bubble bath, their muscle soak is one of my all time favorites. The feel pampered one was very nice. Bubbled up well and smelt nice. I definitely felt relaxed and pampered soaking in these bubbles.
I think this month, I have definitely left the best until last. The Olay regenerist face scrub set from Amazon was purchase as a treat for myself with some vouchers I had. The set came with a smaller bottle of face wash than is shown here, I liked it so much I bought another. Just using the face wash on its own is lovely. As you would expect from Olay it leaves your skin feeling so good and very soft. Add in the brush too and wow!. The brush is battery powered, it rotates around and you run it over your face. It removes more dead skin etc than washing without it. The bristles are very soft and I think it feels like a mini face massage. Afterwards, my skin feels so so good and cleaner than I thought it could feel. I would highly recommend buying one of these brushes. Obviously you don't have to get the Olay one, there are a lot of them available. You can find the Olay brush set here on Amazon.
So there you have my empties for this month. Did you see anything you like? What have you been using that you would recommend to others?
Take care everyone.
div align="center">