My empties post for November is a little later than usual. I have been so busy with work and making videos for #Vlogmas that I have gotten a little behind. Sorry about that. I can't believe how close we are to Christmas now, it's exciting! I am of course hoping for lots of lovely bath and make up bits. Hubby and I have though, agreed to only get each other 1 present and I know he has already got me that and it's not bath or beauty related. Fingers crossed I get something good in the sales lol.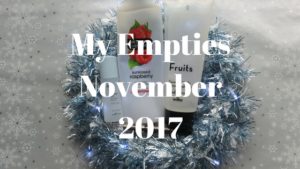 I have got a Soap and Glory Advent calendar which is filled with a mix of make up and bath goodies. Instead of including them in my next empties post I am going to write a post just about the calendar. So look out for that after Christmas!
Onto what I used during November.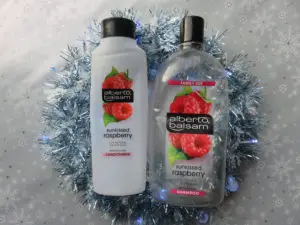 Again I have been using the Alberto Balsam sunkissed raspberry shampoo and conditioner. I love these. My hair feels really soft and looks lovely. And they smell so nice! I find the scent does stay with me for a while which is great. The best thing for me though is the cost. They are both just a pound each! It is great to find something I like at such a great price.
I had never tried an eyeshadow pencil before, so when I saw this Collection work the colour one whilst perusing Amazon, I thought I would give it a go. The colour I chose was hot chocolate, a nice warm brown. It was very easy to apply, just "draw" over your eyelid where you want the colour. My only gripe is that it didn't last that long. There is still a bit of nib there but there is no colour in it. I literally went to use it and it didn't work. I don't think I will buy another one. It was ok and looked good while it worked, but I have actual eyeshadows that I like better.
I actually got this No7 Beautiful Skin eye make up remover in 2016's No7 advent calendar! I already had some make up remover, so it took me a while to get round to using this (I still have a few more products from last years calendar to use!). This is a gret make up remover. It took all my eye make up off with no problems and didn't dry my skin out at all. I would definitely use this again, but It is a little on the expensive side so it might be a while until I can afford it lol!
The Wilko Fruits coconut and Vanilla fragrance explosion body scrub was amazing! It smells absolutely divine. It wasn't too harsh when scrubbing your body, it actually felt really nice. And my skin felt great afterwards. Again, this is a great product for a great price, it's just a pound! Wilko do this in a few different scents, I am going to try a few of them. This will definitely be bought again.
So, again I used some great stuff this month. Hopefully I get some more nice bits for Christmas and in the sales to tell you all about soon.
What have you been using this month that you have loved?
Take care everyone.
Disclaimer: There are affiliate links in this post and if you click on them and buy something I may receive a commission at no cost to you.