October has been and gone. We are getting closer to Christmas (and close to being able to open my Soap and Glory advent calendar!) which is exciting. I have used a lot of make up and bath stuff during October, but I don't seem to finished a lot. But at least I know there will be a lot of stuff for Decembers post lol. If you would like to see what I used last month you can read September's empties post here.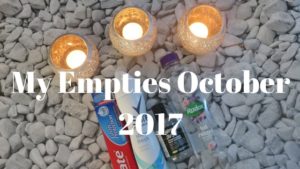 Also this month I actually looked at my stash of shower gels and I still have 10 that I haven't even opened yet! That is more than I thought I had. Which I guess is bad seeing as I haven't actually bought any for months!  I may have to start having 3 showers a day to get through it all lol!
Onto what I have been using.
I will be honest, when it comes to toothpaste (and pretty much everything else at the moment) I buy whatever is cheapest or on offer. Protecting your teeth is important, but I cannot afford to pay 3 or 4 pounds for toothpaste. The Colgate cavity protection toothpaste was good. It wasn't too minty or taste weird and powdery and my teeth felt nice and clean after using it. All of us used this and liked it, so this will be on my shopping list again.
I am loving the Sure motion sense antiperspirant. It smells fresh when I put it on and keeps me dry all day. I have bought this before and will be buying it again. It does leave white marks on dark clothing, but not nearly as much as some other anti-perspirants I have used. I might try out some of the other scents, but I do like the shower fresh one.
As you know I do love Radox, especially the bubble baths. So, I am very happy that the warmer days are over and I am having more baths again. I chose the feel relaxed bath soak with Lavender and waterlily this time. I have been quite busy lately so his seemed like a good choice. It smells lovely and did make me feel relaxed. Now I have to choose which one to get next lol.
I bought this a while ago, but as I already had some conditioner, I put it in the cupboard and forgot about it. While looking for something else I came across it and decided to use it. Oh am I glad I did! The Happy Happy Joy Joy conditioning hair perfume from Lush is delightful! It smells amazing and my hair felt great after using it. The scent stayed with me for quite a bit of the day which was really nice. It contains rose water, orange flower water and almond milk, a lovely combination. If I get some money for Christmas I will be treating myself to this again!
I think I have used some lovely and practicle things this month. Have you been using anything really good?
Take care everyone.
Disclaimer: This post contains affiliate links, I may earn a commision at no cost to you if you purchase through them.