I thought once my kids were out of the baby stage of their lives the laundry level in our house would go down a bit. How wrong was I! I think I do more washing now than I did when the kids were babies, surely I am due a reprieve from it now?
I think Booey is definitely the worst offender for building up a lot of washing. On average she goes through 2 outfits a day. School uniform, then after school clothes. That might sound reasonable, but at weekends there will be times where half way through the day she suddenly decides the outfit she is wearing needs to be changed!
I do a load of washing everyday. Now that might not seem a lot to some of you, but I still can't believe we go through that many clothes a day. So when I do the washing, I am always looking for things that will make the process a little easier. This is where Ecover comes in.
Ecover's new Non-bio concentrated laundry detergent gives a powerful clean and has a new gorgeous naturally inspired fragrance, Lavender and Sandalwood. It is dermatologically tested, plant-based formula that gives spotlessly clean results even on a cold wash.
Ecover have pioneered a greener clean since 1979. The new Non-bio formula is tougher on stains. but still kind to sensitive skin. It is now Mumsnet rated, with 89% of Mumsnet raters saying they would recommend it to a friend. It makes the perfect partner for the family and the planet.
When Britmums challenged me to use Ecover laundry detergent I was skeptical. I wasn't sure that something that was supposed to be good for the environment and gentle on skin would give a good clean, how could it? This detergent had a lot to live up to and I was expecting a lot from it too.
Booey has sensitive skin and hubby has allergies to things like dust, so I was worried about how they would react to Ecover. But I needn't of worried, neither of them had any reaction to it. In fact they both said that they thought the clothes and bedding felt nice and smelt lovely. One hurdle faced.
It was kind to delicate skin, but did it clean well? The answer to that is yes. I didn't have anything that was extremely messy to try it on, but it cleaned everything just as well as other laundry liquids do. And as it is concentrated, you don't need to use too much either.
Ecover was a lovely surprise for me. All round it did a good job. The Lavender and Sandalwood fragrance is really nice too, was very nice on our bedding as we snuggled up at night.
Laundry is always going to be a challenge to me, but this detergent made it a little more bearable.
You can follow Ecover on Twitter and Instagram.  
This post is an entry for the Britmums #EcoverLaundry challenge, sponsored by Ecover. Visit the Ecover website here.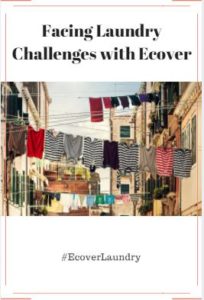 Take care everyone.