The Easter holidays are over and we are pretty much back into a routine of school and housework. Although, they are back at school for a week then it's the May bank holiday. Another week of me barely knowing what day it is lol! But then, that's nothing new for me!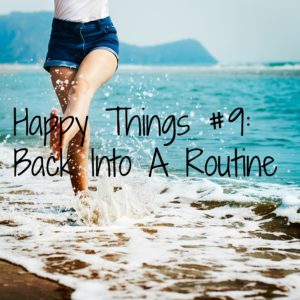 We haven't really been out much this week as I have been trying to catch up on all the things I haven't done with the kids being home. I am loving being back into a routine. Might seem boring to some, but I get so much more done this way!
On Monday, Ben Bob was back to college but Booey had an inset day. It has been a while since we have had a day where it has just been just Booey and I. We went into town early and had a lovely trip to Costa. I was sensible and had a tea, while Booey had a strawberry creamy cooler. It was a lot of whipped cream for first thing in the morning!
After town, we sat and watched a lot of trashy tv together. It was so nice to have a lazy day with her and talk about all sorts of stuff. We definitely need another girlie day soon.
Wednesday I met up with my lovely friend Emma. We have seen each other over the holidays, but we finally got to catch up properly without the kids. We had a lovely time catching up over a cuppa (and a fairy cake!). Everything always seems much better after I have had a good chat with her.
Friday, for the first time in ages, I went into town on my own. I love my hubby and kids, but it was so nice to have a wonder round without being asked to hurry up lol! What also made this lovely was the fact that I bumped into my other good friend Rosann. We have both been really busy and haven't had a lot of time to catch up. We finished our shopping together and I gave her a lift home.
Until we started chatting, I didn't realise just how much we had missed. I must make sure I try harder to stay in contact with the people close to me. Crap friend is me at the moment lol.
What have you done that has made you happy this week?
Take care everyone.