As everyone else has been talking about the heat wave, I guess I will too. Well we can't deny summer is finally here can we?! The heat this week has been pretty unbearable. It's great when it's sunny, but this has been too much. I do not know how people have gotten anything done this week, I have seriously struggled to get much done at all.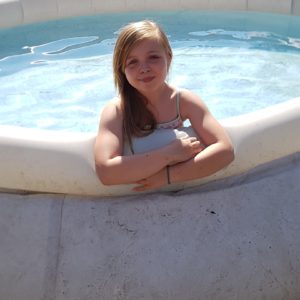 As you can see from the picture above, we have tried to cool ourselves down during the heat wave. Getting this pool a couple of years ago has definitely been good. I have been sat in there a lot. My only problem with sitting in there is that I have to keep moving around so that I don't get sunburn. We have gone through a lot of sun cream this week!
Trying to sleep at night has been awful. We have had windows open and a fan on, yet it has still been unbearable. Usually I cuddle up with hubby as we go to sleep, but this week we have been sleeping (well trying to) as far away as we can from each other! The kids have found it hard too. With no sleep we have been a grumpy lot!
But on Saturday, Booey and I pushed through the heat wave and went out for the morning. We haven't had any time just the two of us for a few weeks, so we decided to go out.
We popped to Wimborne for the morning. Wimborne is about a 10 minute drive from us, but we haven't been there for a while. It is a lovely little town with some cute little shops, perfect for a girly morning.
We had a little walk around the town. The heat wave did make walking not so much fun. We did try to walk in the shade where we could. Booey loved walking over the bridge and looking at the river.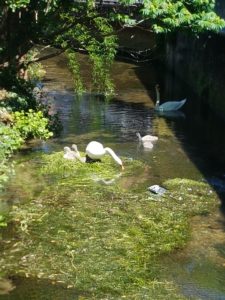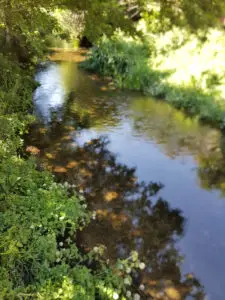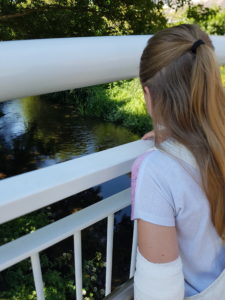 We were getting VERY hot walking around so we decided to stop for a drink. We found a little cafe that had (shaded) seating outside. Although it was at the side of the road it was lovely. We ended up sitting there for over an hour. It was so nice to have a proper catch up with Booey. We talked about a lot of different things, serious and funny. And most importantly Booey had cake and I had some lovely shortbread!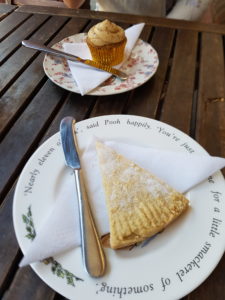 The cafe was very shabby chic. The plates were really cute. I had a Winnie the Pooh plate while Booey had a lovely flowery one. Needless to say, what we ate was delicious!
We had another little walk around before we headed back home. It was a lovely morning, I really should do things like that with Booey more.
Take care everyone.
div align="center">