Finding ways to keep Booey occupied during the holidays isn't always easy, especially when the weather isn't exactly great. There are only so many movies to watch and we are a bit tired of our shopping centre. While we were in Truro a few weeks ago, we walked past quite a few spas/salons. I said to Booey how nice it would be for us to have a spa day, it's a shame that it is so expensive to do so. Her reply was "why don't we do one at home" .  The girl had a good idea!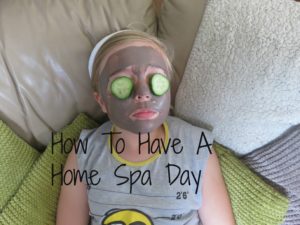 Having a spa day at home is really easy and it doesn't cost very much either. Everything we bought for it was under £2 (I am not sure about the hand cream though as I won that in a gift set).
Face masks are available in so many shops now, and there are so many different types you can buy. Booey and I chose a moisturizing chocolate mask that we found in Primark. They were only 80p each! We bought 2, but we only really needed one between us. Primark have a great beauty range at the moment and we got a few more things in there too.
Next we bought a two pack of white beauty hair bands, these cost £1.50. I will use mine for when I am cleansing and putting on make up, I am going to get some good use out of them lol! We also bought a nail polish each, these were 90p!
In Wilko, we found a nice range of hair masks. We chose one that had argon oil in as this is really good for your hair. The hair masks were £1 each, we needed one each as Booey's hair is really long.
I looked through all the beauty bits and bobs that I had at home to see what else we could use. I found a lip scrub, foot scrub and a nice hand cream.
Now we had everything we needed, we just had to sort out a little space to make our "spa".
We put a few cushions on the sofa around where we wanted to sit so that we could get comfy. I put a large towel on the floor in front of us and we lit some candles. Booey even managed to find some relaxing spa music on YouTube for us to listen to.
The face masks were the first thing that we did. Once they were on, we sat back and chilled for 15 minutes until it was time to wash them off. I was so chilled I was lucky I didn't fall asleep lol! Hair masks were next. We stayed in the bathroom whilst we did these as they only stayed on for 5 minutes. Once I had helped Booey finish hers it was time to wash mine out.
Next we did a foot scrub. We used the bowl from the kitchen to do this. we half filled it with warm water and placed it by the towel we had already put out. Once done and our feet were dry, we used a foot moisturizer on our feet too.
Finally we filed and painted each others nails. We stayed on the sofa to do this and used my laptop tray for a table. It was lovely having Booey do my nails, having someone else do them always is.
We made a video of our spa day too for you.
So, as you can see it is really easy to have a spa day at home. I think this is a great way of not only keeping tweens (and probably kids of other ages) occupied, but a great way of spending quality time together too. Booey and I really enjoyed our day and we plan on doing this again at some point.
Do you think this is something you would like to do?
Take care everyone.