Yes, I have had man-flu. But I am a woman, how could I suffer from man-flu? Us women carry on when we are ill, we don't get to actually rest. I have let the side down and it is all my hubby's fault.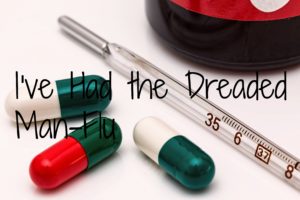 Now, I know what you are probably thinking. My hubby made me ill which is why I am blaming him for the man-flu. But no. In fact it is I that so kindly passed on my germs to him.
The reason I am blaming him is that he has made me soft.
Before I met him, if I was ill I just had to carry on. I was on my own with 2 kids I had no time to be ill. Even the first few years we were together, if I was ill I just carried on. I was used to being on my own, I was very independent. To the point at times hubby used to say I gave off the vibe I was "cold".
It took me a long time to get used to someone actually wanting to take care of me. There are still times now where I struggle with it a little bit.
This week I have been suffering with a stuffy nose and a horrible cough. It has not been nice. My chest is really aching from so much coughing and I am shattered as I cannot sleep. I have been rather grumpy.
My lovely hubby has been looking after me. Making sure I do not do too much, letting me lie down when I am tired. Not much has gotten done at all around the house. I have spent a lot of time lying on the sofa under a Star Wars blanket feeling sorry for myself.
All I have done is moan and complain about how awful I feel. Poor little me with a cough and a stuffy nose.
Really it should have been poor hubby. He was working during the day then coming home and cooking dinner and looking after me. He ran me nice hot baths and made sure the kids had everything they needed for school the next day.
So, you can see he has made me a little lazy and soft. Hubby says he only does what he thinks you should do for the person you love and care for. And now that he is suffering I will do the same for him. I love him and I love looking after him and making him as happy as he makes me.
I don't think I will ever have the words to tell him just how much I appreciate everything that he does for me, even if he is making me a bit soft.
One day I may get used to being loved so much. It looks like I will be having bouts of man-flu for the rest of my life.
Take care everyone.