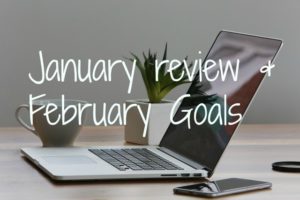 Christmas seems a million miles away now and we have just entered February. It seems only five minutes ago that I was writing my goals for the year, now I am actually working on them.
January was a lot busier than I thought it would be. I thought it would be a slow start into the year, boy I was wrong. It is not just blogging that kept me busy, things at home have been busy too, but then if nothing was going on I would be bored lol
So, how did I get on in January?
The most exciting thing for me was that I did my first collaborative post (which you can read here). I applied just to get experience of the process and was totally shocked when they asked me to be part of the project. As it was my first post of this kind I did take my time in making sure I had included everything that was necessary, I have never been so scared writing a post! I received a nice email back from the PR lady, so all was good. I didn't get paid very much for the post, but it was a nice start. Hopefully there will be more of these throughout the year.
There has been a little rise in the number of people reading my posts this month. I think this is (at least partly) down to the fact I have started using Social Oomph to schedule my post throughout the day. Before I was only sharing them if I was at home and at the laptop, now I can set them to share throughout the day. Facebook blogger groups and sharing pages are something I am using more too.
I have kind of worked out how to make my own thumbnails for my YouTube videos now. They are by no means perfect, but they are much better than the thumbnails that were being picked of me before looking like I was tired or sitting with my mouth gaping open lol.
Now onto my goals for February.
Apply to Brands for posts/reviews etc. I am aiming to apply to at least 5 brands a week. This may not sound many to some of you, but I don't want to get myself bogged down and lose enthusiasm for what I am doing.
Use Pinterest more. I have rearranged some of my boards and I have started boards for my empties and weight series. I also want to be pinning others content as well as my own.
Write 3 blog posts a week (more if the occasion arises). I have found that this has been a good number of posts for me to write and seems to be working ok at the moment. If the time comes that I have more time and things to write then I will post more.
A continuing goal will be to keep growing my blog and YouTube. All of my goals will hopefully contribute to that.
Have you set yourself any goals this month, blogging or otherwise?
Take care everyone.