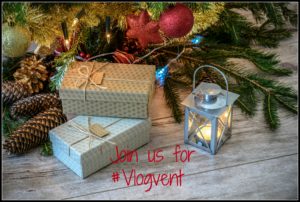 #Vlogvent, surely I mean #Vlogmas? No, Booey and I are doing #Vlogvent. To us this is a much more accurate description of what we are doing.
During Advent this year, Booey and I will be posting a video everyday. We will be opening our Advent calendars on camera and filming anything else that we think you might like to see during the day.
We both have make up Advent calendars and thought you would all like to see what is inside. Booey has the Wilko Kissmass Calendar and I have the Boots No7 one. We are both very excited.
By the time we get to Christmas we will both be looking fabulous lol.
After Christmas, we will be filming two haul videos. One of what Booey has received for Christmas and one of presents that I received.
I hope you will be joining us on our #Vlogvent journey. This is the first time we have tried anything like this. It is both exciting and scary at the same time. It is going to be a very busy few weeks.
Below is the first video of #Vlogvent, we hope you enjoy it.
Take care everyone