It is August and the sun has still barely been seen! We have just come back from a couple of days in Cornwall and the weather was awful. But we still had a nice couple of days away. I also took a tiny step back from the blog while we were away. Partly so I could enjoy time with my family and partly as I was getting a little stressed with it. It was only a short break from it but I don't feel as stressed as I was. I also sat and wrote lists of the things I really want to achieve and do with my blog. This has really helped me to refocus on what I am doing.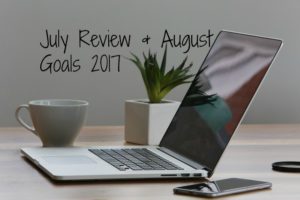 This has not been the best month for me. My mind was all over the place and I was losing faith in myself and the blog.My blog views were down a bit, but I didn't write that many posts so was to be expected. Social media follows seem to be still rising slowly though.
I did a review through Review Directory for Sensse Beauty and their Anti-ageing cleansing brush. I really enjoyed trying it out, Booey likes it too and keeps trying to steal it from me lol! You can read that review here.
Onto how well I did with my goals last month.
Get more posts ready and scheduled: This was a massive fail. I only wrote a couple of posts this month. My lost mojo has a lot to answer for. Now my head is back in the game, this should improve a lot.
Use Instagram more: I have been posting on Instagram pretty much everyday. Also I have been trying to like and comment on more posts as well. Doing that has helped me see a little rise in followers and interaction on my posts. This is great! I am going to carry on with doing this and the rise should continue.
Improve my about me page: Again, a bit of a fail. I updated the about me details in the sidebar of my blog, but not the actual page. This is something I am going to try and fit in and do a bit here and there. I will get it done!
Now onto what I want to achieve during August.
Write a proper media kit: As I am wanting to do more brand work, I am going to have to write a proper media kit. At the moment I am just using my work with me page and sending that to possible clients. It kinda does to the job, but I would like to look more professional. It will be a lot of work, but worth it.
Write a template email for contacting Brands: Moving on from my media kit, I think a template for replying to brands and sending to brands would be good and save me time. If I have a basic template I can adjust to suit each brand. 
Get back to writing 3 posts a week: I was doing so well with this and it was showing in my blog stats too. 3 posts a week works well for me and is not too much to handle. I still have time for family and doing other blog related things.
I have had my crappy month. Hopefully this month will be much better.
What would you like to achieve this month?
Take care everyone.