The Last Day of the Summer Holidays
This blog uses affiliate links and banners. If you purchase something from them I will receive a commission at no cost to you. I am part of the Amazon Associates program. As such, I receive a commission on qualifying products.
I cannot believe the end of the summer holidays is here already. For me, it really hasn't seemed like 6 weeks has gone by. I think because we had the first couple of weeks taken up with hospital stays and appointments it felt like they didn't count.
Even though there have been some tough weeks, we have had a great summer holidays. We may not have done everything we planned, but we enjoyed everything we did do. There were even a couple of really sunny weeks which makes a change for the holidays.
So, yesterday was the last day of the summer holidays for us. And it was a busy one.
We had to go to Bristol for my son to have a check up on his eye after all the procedures he had done at the beginning of the summer. As we had to be there at 9:30 am, we decided that we would make a day of it and go to Bristol Zoo as well.
First the hospital appointment. All is healing well with his eye. He does need to have a small lazor  procedure done, but that should help protect his eye.
While Ben ad I were at the hospital, Hubby and Booey had a walk around town. The following is the picture they sent me. At that point I hated them lol.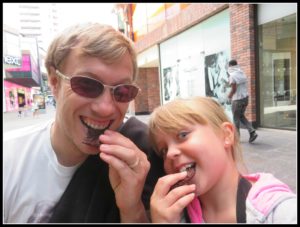 How dare they have chocolate cookies without me, the cheek of it!
After the hospital we all met up. Ben went off to a retro game store to play video games while we headed to the zoo.
We booked online the day before, so our tickets were slightly cheaper and Hubby also found a kids go free ticket voucher online. Always check for these things online before you go anywhere, you would be surprised at how much you can save on ticket prices.
The Zoo itself was amazing. We had a wonderful afternoon walking around and looking at all the animals. The gorilla's, sealions and penguins were the favorites. Although, I loved the butterfly house. So many pretty butterflies all around you.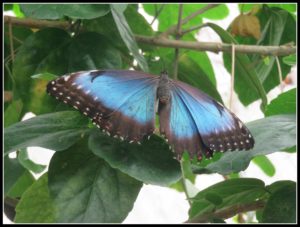 I would definitely recommend going to Bristol zoo. There was so much to see. A lovely day for all ages.
There are not too many pictures in this post as I am making a video for YouTube about the day too. You can see all my videos here.
Take care everyone.