Mum Guilt (or dad guilt) is something that most of feel at some point(s) when we have kids. It can be quite overwhelming, even crippling. But does there come a point where we are over it or do we just deal with it better?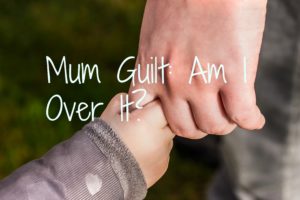 I have suffered my fair share of mum guilt over the years. Ben Bob was born when I was 19 and he didn't have the best start. A result of this was that he has special needs.
Being 19 and having a baby that needs extra care is not easy. I constantly questioned whether I was doing enough. There were times when I know now that I could have done more. I was young and scared that if I admitted how hard I was finding it my partner wouldn't want me and my baby would be taken away.
Now that I am older I know that if I had of said I was struggling then I would have gotten help. But the mum guilt well and truly won then.
As Ben Bob got older I had to fight to get him the right education and the help that he needed. I came up against schools and the local authority on this. I fought and got him into the school he needed and he thrived! He is now doing a college course aimed at people his age (18) to help him with English and Maths and life skills. He is even doing a work placement as part of this.
None of that would have happened if I hadn't fought for him. Looking back at it now I see I did the right thing for him. I have nothing to feel guilty for. Although as he goes out into the big wide world himself, I will feel some kind of mum guilt in that have I prepared him enough etc. I love him, so am always going to worry about what is best for him and how he is doing and what can I do to help.
With Booey, the mum guilt manifested in the fact that we spent so much time fighting for Ben Bob that sometimes she got lost by the wayside. She has never struggled physically or mentally so we have kind of just let her get on with things. I feel guilty that she may have felt left out or as if we didn't care about her as much.
Over the years I have tried to instill in her that I love her just as much as Ben Bob. Now that they are both older I spend much more time with Booey. At times she can be a bit clingy and I know this is because of her wanting more of my attention, but now she has it all lol!
I am now at a point in my life where I see all the time I wasted feeling bad and guilty instead of enjoying my kids. So now, mum guilt has been given the boot (well for now anyway!) and I am enjoying my kids.
Mum's everywhere, stop feeling guilty, you are doing an amazing job, don't let anyone tell you different. Being a mum is hard work. Whether you are a stay at home mum or a working mum, you have nothing to feel guilty about. You are doing the right thing for your family. And in life, family is all that matters.
Take care everyone.