It is time for my empties april! I don't know about you, but after the Easter holidays and being on a Bank holiday weekend, I am feeling pretty good. As it has been a bit chilly for the time year I have been enjoying a lot of nice hot baths. I will have some lovely bubble bath to show you next month when I have finished it.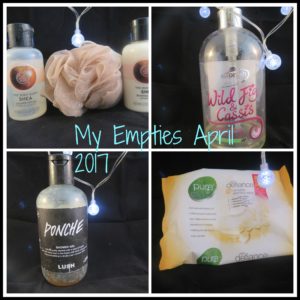 I haven't touched my shower gel stash much this month. Finally I counted all the ones I have and there are 14! This includes single ones that I have bought and ones that have come in gift sets this Christmas (and a couple last Christmas!). Hubby has made me promise not to buy any more until I have used what I have lol!
Booey, for the first time this year, went shopping on her own for my Mother's day present. I was expecting chocolate of some description, so was completely surprised when I opened the Body Shop Shea shower creme set. Booey knows that I love anything that has Shea in it. It is a lovely little set and it smells divine. My skin feels lovely after using these. I have used all the shower creme, but still have quite a lot of the body lotion left (I am using it though).The little scrub/scrunchie is great too. I have quite a few different ones of these. Hopefully she will buy me some more of this for Christmas lol!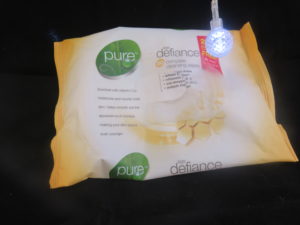 I did better with the face wipes this month. Though, I will be honest, I didn't realise they were age defiance ones until I got home. I just saw that they were not the micellar ones lol. These contain Shea butter and as I already said, I love this. They smell really nice and didn't make my face too wet. My face felt soft and smooth and clean after using these. I bought these in Poundland, they were 2 packs for £1.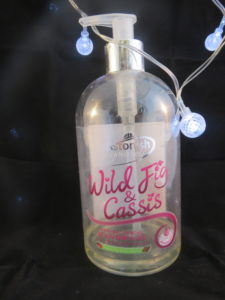 Handwash is something we go through a lot in our house. I think the kids just pour it down the sink or something! The scent of the Astonish wild fig and cassis handwash was very subtle but really nice. Ben Bob says he doesn't think he smelled of anything, but it definitely does. It is also antibacterial and moistening, it didn't dry my hands out at all. I would consider buying this again, but maybe in a difference fragrance.
I love Lush! If wish I could shop there more often, but I think my hubby would go mad if I did! But saying that, he was using the Ponche shower gel as well. It smells, well Lush lol. It has tequilla, fresh orange juice in it making it very fresh and awakening. Hubby used it on his hair as well as his body and said it made his hair feel great. It is definitely a gender neutral scent, at least I know there is something I can convince hubby to get from Lush lol.
So that's it for my empties April. I am very happy with the products that I have used this month, I can't wait to start using all my bath goodies next month.
Have you used any great bath products recently?
Take care everyone.