This week we were given the opportunity to try Prezzo's new La Famiglia family sharing meal, thanks to Britmums and Prezzo. We happily accepted as we love a good meal together. With the kids having such hectic social lives (yes I am jealous!), we don't always eat at the same time or even in the same room! I thought this challenge would be a good way for us all to spend some time together.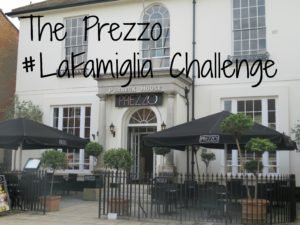 The booking process was easy, that cannot be said for actually trying to find a date that suited us all. We finally decided on Tuesday.
Unfortunately, on the night, Ben Bob wasn't feeling well so he decided to stay at home. I felt bad that he couldn't join us, but staying home was the best thing for him.
We went to the Prezzo in Wimborne. Hubby knew where a little car park was just behind the restaurant, and it was free after 6pm! (parking charges are one of my lifes hates, they are ridiculous!) Booey was really excited as we walked down the road. You can see the front of Prezzo in my title picture above.
Before we were even seated we had decided what to eat. We all love spaghetti bolognese,so the choice was made. As we were going to be sharing together it took all the stress out of getting everyone to decide what they wanted.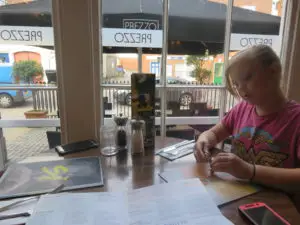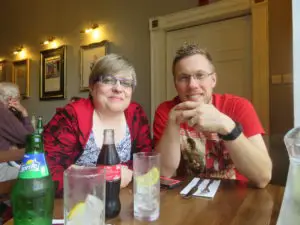 As you can see, we were lucky enough to get a window table. The view was only the road outside, but it was still nice. The whole place was lovely. Prezzo in Wimborne is in what used to be a house. It is quite an old building and had lovely high ceilings that had gold coloured decorative coving. To me, this just added to the family atmosphere of Prezzo.
Booey has only ever had shop bought Garlic bread. So trying the fresh Garlic bread was a real treat for her. From how quickly it disappeared, I think it is safe to say she loved it!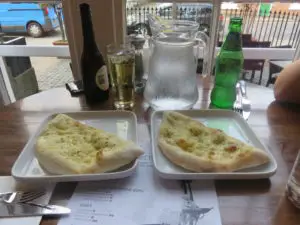 It was delicious!
All being around the same table, enjoying the same food was fun and really gave us time to catch up with each other. As well as being great family time, we were celebrating as we had just found out that hubby had passed a course that he had taken. I am so proud of him! Being together like this was a great way to celebrate.
When our La Famiglia Sharing bowl arrived we were a bit stunned by how much was in it. I am definitely going to have to spend more time at the gym after all I ate! We let Booey serve the spaghetti out to us. She loved this as it made her feel very grown up. It was quite funny watching her try to dish it up without loose strands of spaghetti going everywhere lol!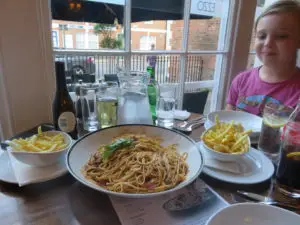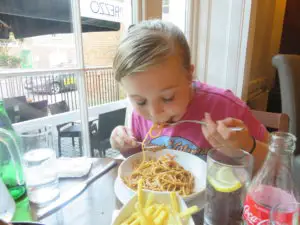 The spaghetti disappeared just as fast as the garlic bread! We also had 2 sides of fries. I should have been good and had salad lol! The spaghetti bolognese was really good. I was completely stuffed after eating. There is definitely enough for 4 people!
Just when I thought I couldn't eat any more our desserts were brought over to us.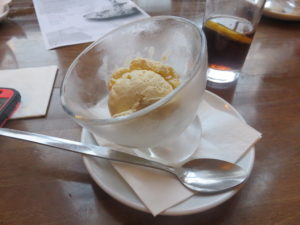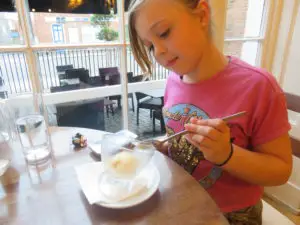 The ice cream was so nice. I love the tilted bowls so that you could get at all the ice cream inside. I may have to buy some of these.
We also made a little video of our meal.
All in all we had a fabulous time and food at Prezzo. The La Famiglia dining experience was lovely, enjoyed by us all. I would definitely recommend this for families of all ages.
Note: There are no picture of me stuffing my face because, well, no one really needs to see that lol!
Take care everyone.
Disclaimer: we were sent a voucher by Britmums for the La Famiglia meal for the purpose of this review. All opinions are honest and my own.