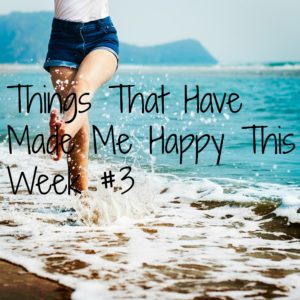 Half term is over for us, but it was a lovely week full of happy moments. We didn't go out too much, but hopefully by the Easter holidays the weather will be better and we can do more.
This week was also nice as I actually had the whole weekend off. Booey loved that, she hates me working weekends but it has to be done.
Here are our happy things for this week.
Having a lazy day with Booey.
On the Monday, Booey and I had a pj day. The weather wasn't great so we stayed at home on the sofa watching trashy tv. I love watching tv with Booey, her questions about what is going on either make me realize how grown up she is getting or laugh out loud as it is something silly. Booey also took the opportunity to paint her nails. She can't do this during term time so it made her very happy.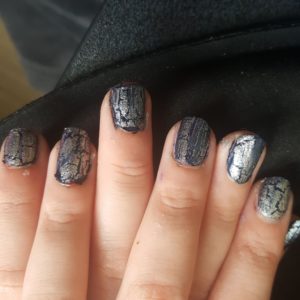 Meeting up with various friends.
On Tuesday we met up with my friend Emma and her girls at the library. The girls all went off and chose their books together. Booey played with Emma's youngest daughter at the toy kitchen and read a book to her, it was lovely to see. We then popped to the cafe (everything I do seems to end up at the cafe!) for a drink and a cake. Such a nice morning.
Then on Friday We met up with one of my work colleagues and her daughter. Her daughter is in the same school as Booey, in the year above. They know who each other are and are always chatting on Instagram, but have never actually talked in person! We decided to meet them at the cafe (where else) so that they could meet properly. They, or course, got on like a house on fire, even meeting at the park the next day.
Now we go swimming quite a lot, but usally Booey and Hubby stay in the shallow end playing about whilst I swim lengths. This time we went during the day while hubby was at work, so I was the one in the water messing about with Booey. We had great fun and it is brilliant to see how much more confident she is in the water.
As I wasn't at work, Sunday afternoon we decided to go to Upton Country Park for a walk and some fresh air. It was very dull, but stayed dry which was great. There was also a lot of muddy patches, but that didn't stop us. We walked into the park and along the bay to the courtyard. Along the way we saw lots of snowdrops and even some daffodils out.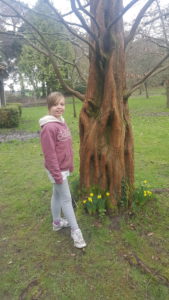 We popped into their tea shop and had a cuppa and a slice of cake (my cafe will be jealous!). It was really nice us all sitting and chatting for a while and not having to be in a rush. We walked back to the car through the woodland paths. There is some play equipment down here that Booey climbed all over as we made our way through. It was such a lovely afternoon, really making it apparent how much I miss having my weekends completely free.
I know the coming week will be great as it is my birthday on Monday and hubby has they day off, so I might get spoiled lol.
What has made you happy this week?
Take care everyone.