This feels a bit weird to say, but, this last week has been great. Two weeks in a row have been great! I cannot remember the last time I felt happy and positive about my life for this long lol. It is such a refreshing change, but at the same time I kinda don't know how to be happy all the time.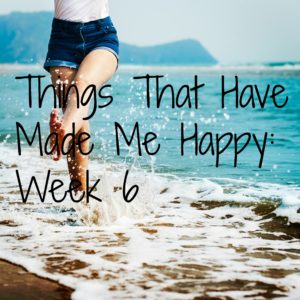 Hopefully I am not making any of you gag with my perky mood at the moment. I know how annoying it can be when someone is shoving their happiness in your face if you are not feeling it.
On monday I went to the gym. While I was there I had a really good workout. I really pushed myself. As I left the gym floor and headed to the changing rooms, I felt GOOD! I walked like I was the best thing ever, literally strutting down the corridor. I had a shower, dressed and then put a full face of make up on. And you know what, I felt GOOD! I absolutely loved that feeling and was on a high all day after that. I made a little video about how I felt then.
Wednesday could have either gone really well or it could have been a nightmare. I had to take Ben Bob to the hospital for a check up on his eye. He, as always was worried about it. Secretly so was I. Thankfully, the doctor was really pleased with the progress his eye is making. Ben could read more of the eye chart this time which was great too. And by the end of the month he won't have any eye drops to take either. This was a massive relief to us both.
Also on Wednesday, Ben and I popped into our local Tesco. He wanted to get some poptarts and I was picking up my friend who works there. While we were waiting, there were some people from Walkers crisps promoting their super sofa competition thingy. We had pur pictures taken sat on their sofa with a packet of crisps with a face on in front of our face. We both got a free big share bag of crisps and entered into the competition. It is for Champions League prizes. Even if we do not win it was fun.
I went swimming on Thursday for the first time in ages. There was a time where I used to go a couple of times a week, but life has just gotten in the way lately. I arranged to go with my friend, her mum joined us too. We were in the pool for an hour. there were no world records set but it was lovely to get moving in the water. It was also a good opportunity for a catch up, we talked a lot while we swam lol! We are hoping to do it more regularly.
I hope that you have all had a great week too. What has been the best bit about your week?
Take care everyone.
div align="center">