Yesterday I was having a bit of a down day. Nothing seemed to go right. This made me lose enthusiasm for writing a new post or really doing anything else. So, I decided to write a post about the things that have made me happy this week to raise my mood and remind me, things are not that bad.
I have finally got back into going to the gym properly this week. Along with my lovely friend, I have gotten in a really good workout this week. It felt so good coming out of the gym afterwards. I was really tired and I ached a bit, but it was well worth it.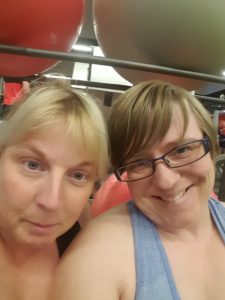 This is us after our workout, she will not be happy I posted this lol.
I recently won a colour with me mum colouring book. This week, Booey and I had a little time to actually start colouring in it. It was lovely spending some one-on-one time with her like that. We chatted about lots of different things as we coloured away. We both enjoyed this and hopefully we will have more time this week to do some more.
It doesn't look like we did that much, but we were colouring for nearly two hours.
Both of the kids went to their dad's for dinner on Wednesday, so hubby and I got a couple of hours to ourselves. The kids go to their dad's a lot, but either I or hubby are working or he is playing football which means we don't have the time together. We sat cuddled up on the sofa and watched a movie. It ma not sound like much, but it was so good to watch a movie uninterrupted. A very relaxing time was had.
Friday, my two best friends and I went shopping. The shopping was fun, but it was the time spent with these two lovely ladies that really made the day. We laughed loads, were probably a bit childish and we spent too much. Friends like these are the ones that you keep really close, I love them loads.
So looking back, my life is actually pretty good. I may have days where I feel down, but I have so many good things and people in my life, I am very lucky.
Take care everyone.