Just after Christmas, I wrote how I am saving money after Christmas. The post included a few ways that I was saving a bit of money. I thought as we are 4 months into the year, now would be a good time for an update. I'm also including a few other money-saving tips I have picked up.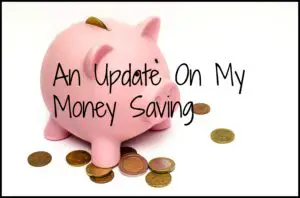 Overall I think I am doing well with my saving. Though the pound and 50p jar has been dipped into a few times for hubby to pay his football subs! I have bagged up £20 from the "little" change jar and paid that into the bank. Hubby won't touch that one as he doesn't fancy paying his subs in 10p's and 5p's lol!
I have also managed to earn £33 worth of Amazon vouchers from various online survey sites. This can be a bit time-consuming, but I think it is worth it. There will be a nice little amount there by the time it's the kids birthdays in June and July.
If you would like to know how I do this then you can read my post how I earn gift cards online.
Magazines were bit of a money black hole for me. I would spend 2 or 3 pounds a week at least on them, which may not sound like a lot, but it adds up over the year. I am now only buying one magazine a month which costs £3.99. Even buying that I am saving about 8 pounds a month.
Just after I wrote my last savings post, I read an article about bank account skimming. This is where you look at your bank balance online at the end of the day and any odd change on the total (ie if you have 134.98, you take the .98) you transfer over to your savings account. Both hubby and I have been doing this for a couple of months now and it is really adding up. And as it is only small amounts you don't miss it.
As I really want to save as much as possible, I have "down branded" my grocery shopping. I pretty much do not buy branded items at all now. We haven't noticed a real change in quality at all. In some cases we are buying the "value" supermarket brands. I also check the fridge/freezer/cupboards so that we only buy what we actually need. Again, this save a few pounds a week and really adds up over the course of the year.
So, yes, my saving is going well. The kids are a bit moany that we don't pop to the cafe as much now. But I keep telling them I am doing this so that we can do nice things in the holidays. They are slowly coming around.
Do you have any money-saving tips I have missed out? I would love to hear them.
Take care everyone.