A Visit To The Cool Coast Ice Rink
This blog uses affiliate links and banners. If you purchase something from them I will receive a commission at no cost to you. I am part of the Amazon Associates program. As such, I receive a commission on qualifying products.
I was gifted entry and food and drink tokens for use at the Alpine Terrace in return for an honest review. All opinions are my own. This blog uses affiliate links. If you purchase something through them I will receive a small commission at no cost to you.
I have not been ice skating for a long time, Not since the kids were younger and wanted to go. I used to love it as a kid (good old IceTrax at Tower Park lol!), but now I am more aware of how much it would hurt if I fall down, so I make excuses not to go. When Ben and I got an invite to go to the Cool Coast Ice Rink through the Bournemouth Bloggers network, Ben made me go.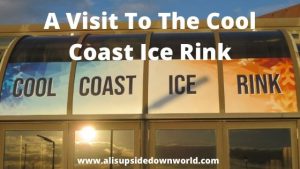 I will admit that I was very nervous as we got to the ice rink (based inside The Bournemouth International Centre). Ben, on the other hand, was not scared at all. He found it very amusing that I was so worried! The rink itself was lovely, a bit bigger than I thought it would be. It was well decorated and had a great painted background of trees and snow. There was also fun music playing.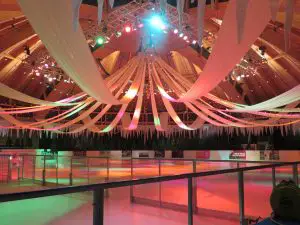 When we went in we were told that there would be a bit of time for us to try the food and drink first and in half an hour they would be a bit of a warm-up before skating. Ben was definitely looking forward to the food, well he is a growing lad! The Alpine Terrace is made up of the wooded huts you would expect to see at a Christmas market, very fitting for an ice rink. There is a great choice of hot snacks and hot and cold drinks. It has plenty of tables around the ice rink so you can comfortably eat your food.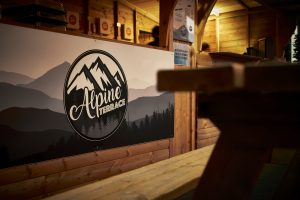 Ben went for the pizza and tea, while I had a waffle covered in chocolate and cream (don't tell ww) with a hot chocolate on the side. I assume the pizza was good as it disappeared really quickly! The waffle was served warm and it was delicious, the hot chocolate was very nice too.
Now it was time for us to get on the ice. Ben decided that I had to go round first, I think he just wanted to see me fall over lol! I did stick very closely to the edge of the rink as I was quite wobbly. There were kids whizzing past me, but I was happy where I was.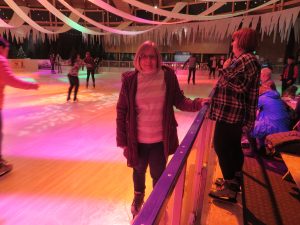 I might be smiling in that video, but I was actually covering up how scared I was lol!
Ben went on next. Like me, he stayed near the edge, but he didn't hang on to the barrier as much as I did. He looked very confident as he went around.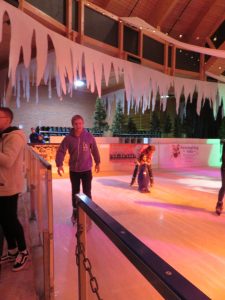 Despite being a bit scared, it was actually great fun and great exercise. I was surprised at how tired my legs felt after I took the skates off. Doing this regularly would definitely keep you fit.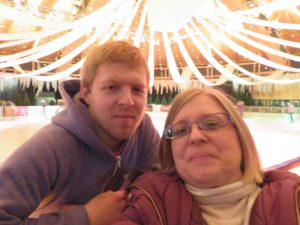 This is a great family activity (there is a smaller rink for young children to practice on and you can hire skate mates too), you all get some exercise and have a lot of fun skating around.
The Cool Coast Ice Rink is open until the 22nd of February. It costs £9.50 – £10.50 and the skate mates are pre-bookable. Session times vary so I would recommend visiting the website to check times.
You can book tickets and get more information from BH Live Tickets.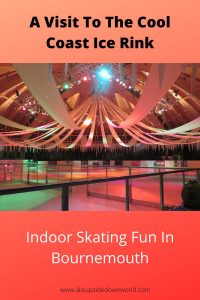 Take care everyone.