This blog uses affiliate links and banners. If you purchase something from them I will receive a commission at no cost to you. I am part of the Amazon Associates program. As such, I receive a commission on qualifying products.
I didn't find April as hard as the months before.  I've gotten into a routine of how things work in the world as it is at the moment. I have also been keeping myself busy not only with my blog and YouTube but also with my hobbies and some new things I am working on. I'm now much more positive about how things are going, especially as hubby is going to be working with me on a few things now (more on that later.).
My Blog
Again, I didn't post as much as I would have liked, but I did actually get two posts written and published. I have so many ideas at the moment, my brain is finding it hard to keep up lol. The posts that I wrote were so much easier to write than they have been.
I have still been sharing my posts over social media, this has helped me to keep my blog views up. They are not as high as they were last month, but still higher than normal which is great. I'm aiming to write two blog posts a week. This should be manageable for me, especially as I have a lot of ideas carved out already.
Social Media
There has been a small rise in my social media followers during April. I've been posting more regularly on Twitter, but I am still struggling with Instagram a bit. I think it is time that I thought a little more creatively about what I post on there, find ways to make day to day life look not quite so boring lol.
My Pinterest stats are going up nicely. I think this is down to the fact that more people are at home and looking at Pinterest etc more. I'm still using Tailwind to schedule posts to Pinterest, I need to remember to manually pin as well to improve this even more.
YouTube
I have published two videos on YouTube this month. My video about a day in the life of lockdown has been doing quite well. Views and watch time have gone up thanks to this video. My subscriber count has only gone up by one but in general, my channel is heading in the right direction. Here is my day in the life of a lockdown video for you to watch.
Last month I mentioned the changes that I had made to my account. This month it is going to be all change again. Hubby and I have worked on some videos together and as he doesn't have a channel of his own, we have decided to make my channel a joint one. It will be quite a big change for my channel as some of the videos we have worked together on are about Warhammer tabletop gaming. But, hubby is getting involved with my beauty related videos. It is going to be a weird mix of beauty and Wargaming (That is going to be the tagline under the channel banner. We are going to change the channel name to suit the new theme. Hopefully, this will work well for us.
And now for something new……
Twitch
Twitch, for those of you who don't know, is a platform for live streaming. It is mostly used for streaming video game gameplay, but you can also stream about many other things. Hubby and I have both set up accounts on there. He is streaming himself painting his Warhammer miniatures and chatting to others who enjoy the hobby and a bit of video gaming. I have been streaming in the Just Chatting category, where I have been knitting and chatting and a few other things. On Sundays, we both stream us playing a game of Warhammer. We have filmed two games so far, they are the only games I have played. These have been quite fun to stream and they have been received well. We haven't hit high viewing figures, but for newbies, we are doing ok.
I have really enjoyed working and planning with hubby. We are both starting and learning this together. We already have a list of equipment that we want to get to improve our streams. The hope is that it won't take too long for us to get monetized on Twitch and then we can start getting new equipment and building our savings. Even when hubby goes back to work (whenever that is) we will be able to keep to the schedule of streaming that we have set up. We are going to download our streams and make them into highlight videos for YouTube, I will still be posting original content as well.
As you can see we have a lot going on at the moment, it is all very exciting. In my May blog update, I will be able to tell you about how our first full month has gone on Twitch and how the revised YouTube channel is going (extremely well hopefully!).
I hope you have all been staying home and staying safe. We are all going to get through this together.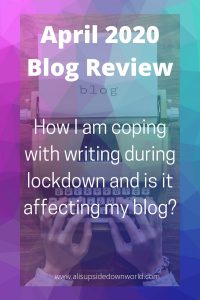 Stay safe and look after each other.