Brightening Up My Autumn/Winter Wardrobe
This blog uses affiliate links and banners. If you purchase something from them I will receive a commission at no cost to you. I am part of the Amazon Associates program. As such, I receive a commission on qualifying products.
*This is a collaborative post, I was gifted clothing items in return for my honest opinion. All opinions are my own. This blog uses affiliate links. If you purchase something through them I will receive a small commission at no cost to you.*
I have wanted to get a few bits to update my Autumn/Winter wardrobe for a while now. I, for a change, knew what I wanted to get. At the start of every season, I think it is nice to buy myself at least one new item of clothing to update and boost my wardrobe. And, as I have lost a bit of weight this year I had the perfect excuse to treat myself!
I decided that this Autumn/Winter I am going to keep to my style (think skulls and dragon prints), but try to include some brighter colours. Normally I go for quite dark colours, Black, greys, dark blues, so I thought it would be nice to change things up a little.
One thing I definitely wanted was a big cosy jumper. Something that was warm, but looks nice too.
This neon pink crew neck jumper I found on the JD Williams website was perfect. It was loose, warm and bright! The jumper is so cosy to wear. You can't see well from the picture, but I paired it with a pair of skull print leggings and a denim skirt. I would also wear it with jeans or if at home, probably jogging bottoms. I love this jumper and it has certainly brightened up my wardrobe!
Regular readers will know that I am a sucker for a nice pair of boots. If it wasn't so hot in the summer I would wear them all year round. So, of course on my hunt to update my winter wardrobe, I have to get a pair of boots. There was a great selection of boots to choose from. Now, I know these are black and not exactly brightening up my wardrobe, but they do have cute stud detail and a buckle on them. These are great to wear out shopping etc during the day, but also smart enough to wear them in the evening. I wear them with leggings or jeans, they look great with both.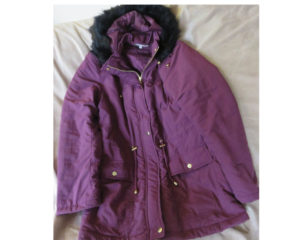 Finally, I decided to get myself a new coat. It has been 4 years since I last bought a coat.  My last coat was a dark green, and when I was looking, I did tend to look at all the darker colour coats. But then I saw this one in Berry, I knew I had to get it. The colour is bright without being too in your face, and it is really warm.
I love that it has big pockets on the front of it. I always have so much stuff with me, (phone, keys, purse), but with this coat, I can fit the things I really need in the pockets so I don't always have to take my bag with me. The fur trim around the hood is a nice touch and it seemed to shield my face from the wind a little. overall it is a great coat, perfect to my needs and it brightens my look up too.
I am very happy with the additions to my Autumn/Winter wardrobe. And I am really pleased that I (mostly) stayed away from dark colours.
What are your Autumn/winter wardrobe staples?
Stay safe everyone.