Christmas Fun With Wasgij Puzzles
This blog uses affiliate links and banners. If you purchase something from them I will receive a commission at no cost to you. I am part of the Amazon Associates program. As such, I receive a commission on qualifying products.
I was gifted the Wasgij Christmas 15 puzzle for the purpose of this post. All opinions are my own. This blog uses affiliate links. If you purchase something through them I will receive a small commission at no cost to you.
I am always on the lookout for fun things to do with Booey. With Christmas approaching, I wanted to find something for us to do together in the holidays. When I went to Blog On in September, I received a Wasgij puzzle (from Jumbo games). Booey and I did this together and really enjoyed it. You See, Wasgij are puzzles with a twist.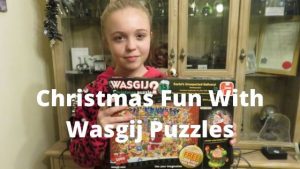 When I was contacted by Wasgij about reviewing one of their Christmas puzzles, I jumped at the chance.
Puzzle fun with a twist
What makes Wasgij puzzles so much fun is that you don't have a picture to follow. You have to try and guess what one of the characters in the puzzle is looking at. In wasgij Christmas puzzle 15 (1000 pieces), you have to put together what Santa is looking at. We had a lot of fun coming up with ideas as to what Santa was seeing.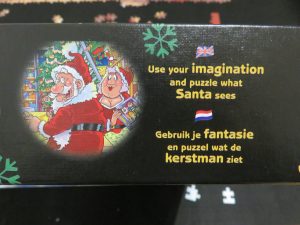 Hints and Tips
We did what we thought was the most logical thing, we started with the edges. This way we could start to see where we thought certain parts would go.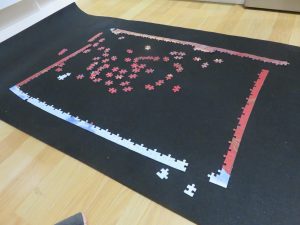 These puzzles are tricky, they are for ages 12 and above. But, there are clues on the box to help you along. I thought this was a nice little touch, it makes you feel like the puzzle isn't impossible.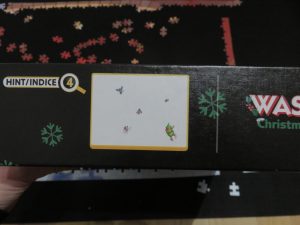 Even with the hints, there were times where we were not sure what we were doing. We actually had it upside down to start with lol. But, we didn't give up and we eventually got it all pieced together. It was very satisfying to see the completed puzzle in front of us.
What we thought
Overall, I think this puzzle (and others from Wasgij) are great for the holidays and as presents. Because of the twist of not knowing the picture you are making, these puzzles are a lot of fun and really sparked some imagination from Booey and I. The puzzles are well made and the box looks great. I will definitely be looking to get more of these in the future, anything that keeps Booey off her phone as long as this puzzle did is great in my book!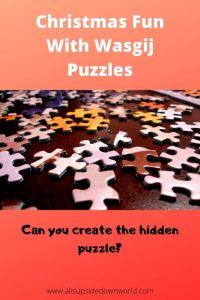 You can buy Wasgij puzzles from Amazon
Also, read 5 things to do with your kids in the Christmas holidays.
Take care everyone.