Eating Healthily With Red Meat
This blog uses affiliate links and banners. If you purchase something from them I will receive a commission at no cost to you. I am part of the Amazon Associates program. As such, I receive a commission on qualifying products.
Finding recipes that are healthy and affordable is not always easy. One of the healthiest, tastiest and most versatile ingredients is lean red meat. It is recommended that children have it in their diet from when they start weaning. Red meat gives them a lot of nutrients (iron, zinc, B vitamins, selenium and potassium) that can often be low in toddlers and children. Doctor Emma Derbyshire, a public health nutritionist and mother, says that including a small portion of red meat in the dies a few times a week after weaning can bridge nutrient gaps and maintain good health.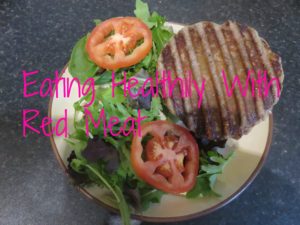 BritMums and the meat advisory panel have challenged myself and some other mum's to take the #HealthyRedMeat challenge. I think I have a couple of lovely recipes that will get us (and you) eating healthily with red meat.
We quite often make our own Turkey burgers, great source of protein. But for this challenge we decided to make some minted Lamb burgers.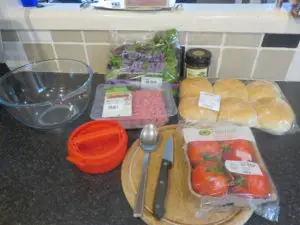 Our recipe for this is pretty simple, we just used lean lamb mince and mint jelly for the burgers. We put the meat in the bowl and spooned out a third of the jar (you can change this to suit your own taste) of mint jelly onto the meat and kneaded it together.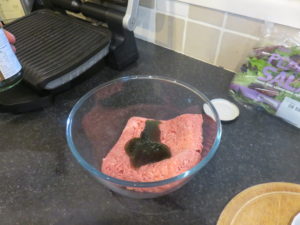 Once fully mixed together we placed the mixture into a burger mould and pressed out our burgers. A 400g pack of lean lamb mince made 4 nice sized burgers. We then cooked them on our Optigrill. The Optigrill is great for cooking this kind of thing as the fat drains off as you cook.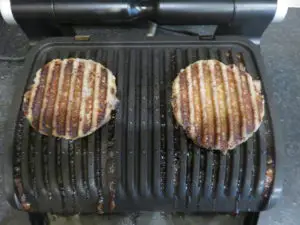 We served the burgers on a bun with a lovely salad. These are perfect in the summer or just when you want a light bite.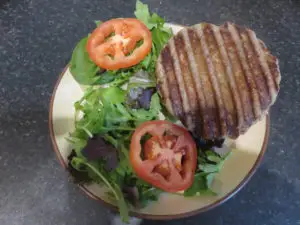 For when the weather starts getting a bit colder and you want something more homely to eat, then there is nothing better than a shepherd's pie! This is a meal we eat a lot in the winter months as it is filling and something we all really enjoy.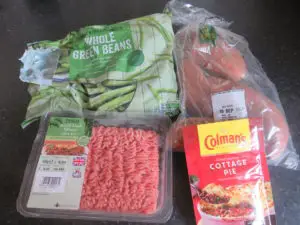 Now, before I start, yes I did cheat a bit and use a packet sauce for this. There is only so much time to do things some days lol.
I started by peeling and chopping 3 good sized sweet potatoes and putting them in a pan to boil. After about 20 minutes I put the lamb mince into a frying pan and began to brown it while the sweet potatoes finished cooking. I also put some green beans into a pan and started them simmering.
Once the meat was browned, I added the sauce mix to 300ml of water, mixed it up and added it to the mince. Whilst the lamb mince was simmering I mashed the sweet potatoes (adding a little butter to them) ready to top the pie.
The green beans were now cooked and I chopped them into smaller pieces and added them to the lamb mince. I let this simmer for a few more minutes then put the mince mixture into a glass baking tray. I then topped it with the sweet potato mash.
Then it went into the oven for 20 minutes on 180 degrees (on my fan oven).
I am not the best cook, so did not take any picture as I was cooking as I was worried I would ruin the food lol!
The finished product was lush!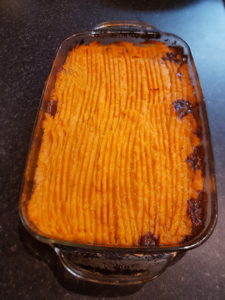 It was absolutely lovely and fed 3 of us. Definitely a triumph for me!
So, I think I definitely passed the Britmums and meat advisory panel challenge with these recipes, don't you think?
Take care  everyone.
This post is an entry for the Britmums #HealthyRedMeat challenge sponsored by the meat advisory panel.
This post contains affiliate links.