My Empties September 2017
This blog uses affiliate links and banners. If you purchase something from them I will receive a commission at no cost to you. I am part of the Amazon Associates program. As such, I receive a commission on qualifying products.
Apart from Booey going back to school, September has been bit of a non event. It has been a bit (not just the weather). I find that at this time of year I hit a bit of a slump. The holidays are over, it's getting cold and the days are getting shorter. I don't know about animals, but I feel like I want to hibernate for the winter.
But it's not all doom and gloom. Halloween is almost here. I love Halloween as there are skulls everywhere and it's my wedding anniversary. I won't be dressing up for Halloween, well in a costume, but I will be making myself pretty for a dinner out with hubby.
This month, I don't seem to have gone through that much stuff. Everything seems to be lasting really well (good for the bank balance I suppose!). Hopefully next months post will be a bit more exciting lol.
Here is a reminder of the things I used in August.
Now onto what I used in September.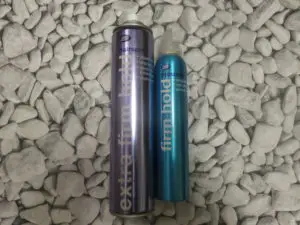 I am a big fan of a lot of Boots beauty products. From No7 to their basics, I love it all. The extra firm hold hairspray is brilliant. It holds my hair in place really well and doesn't make my hair look sticky. The firm hold mousse is good too. The only problem with this is if you use too much it makes your hair look and feel hard. But as a day-to-day mousse it does the job. I will be buying both of these again.
Impulse body sprays have been a love of mine since I was a teen. Booey loves them too. I have tried just about every one of them. There are very few that I am not that keen on. Be Surprised has the scent of violets and red fruits, a combination that works very well. This one also has the Booey stamp of approval lol! I use it to spray over my clothes when I am at work or going out during the day.
At the end of July we took Booey to the Lush shop in town for a treat for her birthday. We got her some soap and a bath bomb. But, seeing as we were there, I thought I would treat myself too. I saw this Beautiful shower gel and had to have it. The small bottle was all I could afford at the time as it is not cheap! I have been using it sparingly, saving it for best lol! But I finally came to the end of it, and now I am a bit sad. It has a lovely peachy, citrus smell and had glitter in it, what's not to love?
I think I have finally cracked it with a deodorant that doesn't leave white marks! Now, I wouldn't say it leaves no white marks, but the Sure invisible aqua deodorant comes pretty close to perfect. I did use this before, but was tempted by others when they were on offer. Lesson learned, I will stick to this from now on.
I do love a freebie, so was very happy when this foundation sample came in a magazine recently. I've have never tried Bare Minerals products before, but have wanted to. Bare Minerals Complexion Rescue was a lovely surprise. It went on really well ( I use a brush to apply foundation) and did look very natural. My skin tone looked even, I would even say it had a healthy glow. When I am next needing to buy "going out" foundation this will be top of my list. It is expensive, but I think it will be worth it. 
So there you have it, my empties for September. Have you used anything good during September?
Take care everyone.
Disclaimer: This post contains affiliate links. If you purchase something through them I may receive a commission at no cost to you.