Feeling Lost As A Parent Blogger
This blog uses affiliate links and banners. If you purchase something from them I will receive a commission at no cost to you. I am part of the Amazon Associates program. As such, I receive a commission on qualifying products.
I love my blog and I love being a parent blogger. But there are times where I feel a little lost as a parent blogger. As my kids are older (12 & 19), I don't always have a lot to talk about parenting wise. They are both potty trained, they sleep through the night and my maternity leave was over a long time ago. So what do I have to offer as a parent blogger?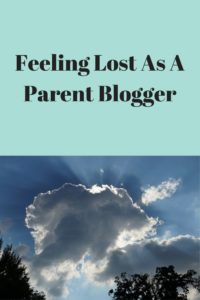 When commenting on others blogs I do offer up advice and/opinion on parenting topics such as I mentioned above. I do have the odd gem to share. But I don't really write a lot of parenting posts myself.
At times where I am stuck for something to write this really bothers me. If I was a "real" parenting blogger surely I could never run out of things to write about. I would always have some tale of tantrums, tiredness and nappies. It makes me feel like a bit of a fraud.
So, I feel lost. Am I doing the right thing?
Then I will write a post about my daughter and what it is like living with a tween. This reminds me that I am indeed a parent blogger. I may not be like the many, but maybe that's a good thing. Because I have older kids I have a different kind of advice to give. Our kids are always growing and parents  will always need advice and tips no matter their childs age.
I have also been thinking that maybe parents don't want to read about parenting all the time. Maybe a post about make up, saving money or life in general is what they need for a little break from the norm themselves.
And I like writing about all the other stuff in life too. The other things that make us tick also make us who we are as parents, who we are as people.
So, now when I write posts that are more lifestyle than parenting orientated I will feel less of a fraud. I am a parenting blogger, a lifestyle blogger. I am a blogger.
Take care everyone.