Happy Things #8: The End Of The Easter Holidays
This blog uses affiliate links and banners. If you purchase something from them I will receive a commission at no cost to you. I am part of the Amazon Associates program. As such, I receive a commission on qualifying products.
This last week was the end of the Easter holidays. It has been a nice 2 weeks off for the kids and a nice rest for hubby and I. Hubby did have to go back to work this week, but as it was only a 4 day week it didn't seem so bad. By the end of the week, the kids were starting to snap at each other which means it's time for school to start again lol.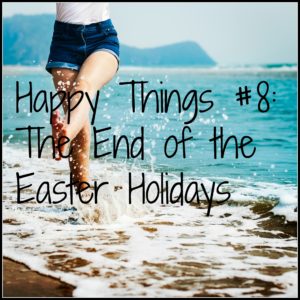 On Bank holiday Monday, we had a lovely trip to Moors Valley country park. I lived really near there as a kid so I have been there a lot! The park has changed a lot over the years. There is new play equipment, a Go Ape course and a Segway course. Through all the new additions the mini steam railway is still there. I love watching all the little kids waving as they go past.
We took a little picnic with us to keep us going. There is a lot of walking to be done at Moors Valley. There is the tree top trail which is a walkway as high as the trees and a Gruffalo trail. We did the play trail. It is a lovely walk with some fun equipment for the kids to climb all over. Booey did try to get me to join her, but I think I would have gotten stuck lol!
We made a little video of our trip.
Tuesday saw Booey and I walking to the library. We both love reading and this is one of our favourite places to go. Booey has just started to get into the teen books. She likes something a bit more grown up now. I am into real crime books at the moment, but I also like fantasy books (no sparkling Vampires though!).
After we checked out are books we went to the cafe and sat and read with a drink. I am so lucky to have a child that loves to read, it is great talking about books with Booey.
We went to the gym on Wednesday. As usual Booey put me through my paces on the gym floor, my arms were aching the next day. We also went for a swim in the pool there which was a lovely way to finish our workout. I was pooped after that so the rest of the day was a lazy one.
Avon Heath country park was Thursday's very short trip. When we got there it started to rain. The kids had a quick play on the equipment then we went home. We have also realised that Avon Heath is probably a bit young for my 2 now. It is a lovely park, but not enough "big" bits of play equipment. Moors Valley is better if you have older kids.
As you can see we had a lovely week. I think I need a rest now lol! Now the Easter holidays are over the kids are back at school. I am sure I will still find lots of things that will make me happy this week though.
What has made you happy this week?
Take care everyone.