How Coaching Can Help With A Negative Mindset
This blog uses affiliate links and banners. If you purchase something from them I will receive a commission at no cost to you. I am part of the Amazon Associates program. As such, I receive a commission on qualifying products.
*I was given 3 free sessions with Lauren Iles Coaching for the purpose of this post. I am now paying to continue my sessions. All opinions in this post are my own*
After coming through my battle with depression, I realized there were things I wanted to change about my life. But I didn't really know how or what to do. I had a vague idea of what I wanted to change, so I started reading a lot of posts about changing your mindset and life coaching. The posts were helpful, but it wasn't the right time for me to start changing things, which is probably why I didn't actually put any of the advice into action. I was also lacking somewhat in motivation which wasn't helping me at all.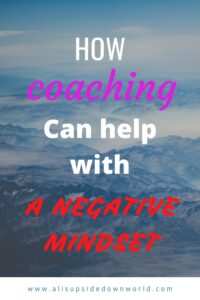 Starting to feel ready for coaching
Then COVID and lockdown happened. This was a stressful time for all of us. As I work in a supermarket, I worked all the way through the lockdown. This was a very stressful time, the first few weeks were not great. I was worried about the health of my family and friends and work was mad to put it politely. There was a lot to get used to.
After a few weeks, I got into a routine and my stress levels started to fall a bit. This meant I had a bit of time to think about where I wanted to go with my life. I knew I wanted to make my blog and YouTube grow and make an income from them, a proper income. I'm grateful that I have a stable job, but I don't want to be in that job for the rest of my life. So, I became more proactive in my search for something to help me with my mindset.
At this point, I started applying for more blogging assignments, mostly in Facebook groups. It was here that I saw a post for Lauren Iles Coaching. From Lauren had written, her coaching sounded just what I needed!
Starting my coaching sessions
Before I began coaching with Lauren, she called me for a quick chat to see what I wanted from the coaching. I told her that I wanted to change my negative thoughts, be happier, and to get my blogging moving again. This was something Lauren could help me with. We set up our first coaching session for a few days later and I was given an activity to do before the first session.
I have to admit, I was extremely nervous before the first session. I had no idea what was going to happen, I was completely out of my comfort zone. But I needn't have worried as Lauren put me at ease very quickly.
We began by talking a little about how I ended up where I was and how I saw myself. It became clear quite quickly that so many of my thoughts about myself were negative. Some because of past events and some because I had just got used to being in that negative pattern. We decided it would be best to work on my negative thoughts first and move on to my blogging work in later sessions.
After the first session, I felt really good, a little bit emotionally drained, but good. Just that one session had such a positive effect on my mindset, I couldn't believe it.
Was it helping me
Over the next few weeks, we worked on the negative blocks that were stopping me from having a more positive mindset. After each session, I felt amazing! I was becoming a little more confident and talking in a less negative way about myself. I was kicking myself for not trying coaching sooner lol.
Now, we have moved on from my negative mindset to starting to think about what blocks I have in my mind that are keeping me from making more of my blog.
I still have a lot of work to do on myself and am still having sessions with Lauren. I look forward to each one as I can see more or the "real" me starting to come through.
Are you feeling lost?
If you are feeling lost, stuck in negativity, confused about where you are heading, or feel disconnected from yourself, Lauren's coaching is definitely for you. Lauren is warm, friendly, and just makes you feel at ease.
Have you had coaching before or is it something you would consider in the future?
You can find out more information about Lauren's coaching and even book a free session to see if coaching is for you on her website www.laurenilsecoaching.com
Stay safe everyone.