How I Am Keeping Busy During Lockdown
This blog uses affiliate links and banners. If you purchase something from them I will receive a commission at no cost to you. I am part of the Amazon Associates program. As such, I receive a commission on qualifying products.
The Covid19 lockdown has been different for us all. For some it hasn't been great, for others, it has been ok. I don't think any of us are fully happy with the situation, but we know it is necessary to help the NHS cope with the situation and to keep ourselves and others safe. Most of us are sticking to the rules, I have no comment (at least not one that is family-friendly) for those who are flouting the rules.
So, how has the lockdown been for me so far?
Depression During Lockdown
I am not going to lie. The few weeks before we were in lockdown and for the first couple of weeks in it, my mental health was not great. I was worried about everything and trying to do too much. My family's health was my first big concern. Both my hubby and Booey have asthma and Ben Bob has learning difficulties and seems to catch everything that goes around. I was in a constant state of panic and washing my hands until they were raw. Hubby was quite worried about me. We decided that the best thing for me to do was to try and keep busy and do the things that give me enjoyment.
It wasn't easy to begin with. I am still working (I work in a supermarket) and find it hard to switch off from the worry of being around others and what I may take home with me. But I am now getting a lot better with it all.
So, How Am I Keeping Busy?
Now that my mental health is more settled I have started to work on my blog and YouTube more. I'm starting to enjoy writing and filming videos again and I am coming up with lots of ideas of things I want to try and do in the future. Sometimes, I do get a bit overwhelmed when I think of all the things I want to do, but on the whole, I am excited about it. Hubby is even getting involved.
We have both set up Twitch accounts for streaming. We both have hobbies that we can do in a stream and chat about. Hubby is also teaching me to play a few games on the Xbox so that we can both stream gameplay as well. This part is as much to keep him busy as it is to keep me busy. Plus, with everyone in lockdown, now is a great time to try things like this as there are more people online.
Also, hubby is also going to get involved in making YouTube videos with me. Having someone to film me and to film with will be really good. Plus his computer skills are way better than mine, so the editing, etc may improve lol!
*This blog uses affiliate links. If you purchase something through them I will receive a small commission at no cost to you.*
Hobbies
As I mentioned above, we both already have hobbies we love. For me, it is knitting and 5d diamond painting.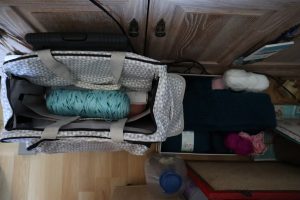 From the picture, you can see that I have a lot of knitting projects on the go. I am hoping that the extra time at home will enable me to finish a couple of them. I really enjoy knitting. Not only do I find it relaxing, but I get to make some cute things as well. If I'm watching something on tv, then I can knit away for ages and get quite a bit done. The only thing I am not so keen on is sewing things together. My sewing skills are not the best, hopefully, they will improve over time.
I have recently started doing 5d diamond painting. It is a bit like painting by numbers, except that you use little diamond-shaped dots instead of paint. It is very easy to do and doesn't require much thinking. I find it really relaxing. I've even got Georgia doing it with me. She is doing a lovely Beauty And The Beast themed picture at the moment. The picture I am working on is a colorful skull, below is a picture of how far I have gotten so far with it.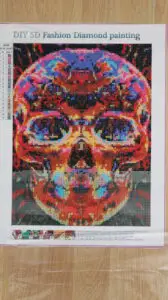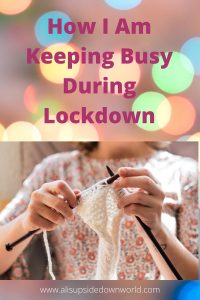 Hubby's hobby is Warhammer. I admit I do not know too much about it. I know all the models are for a game, but I do not understand it lol. He has tried to explain it many times, but my brain gets frazzled easily lol. What I can appreciate though is the skill and patience he has for building and painting them. Some of the painted detail is so small, I know I would make a mess of it. Now, he has even started 3D printing scenery to go with the models. I see him designing stuff all the time and I literally have no clue what he is doing and how he gets the machine to print the bits. He is missing playing games at the moment, when the lockdown is over, I can see him disappearing a few afternoons a week lol.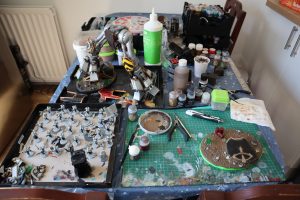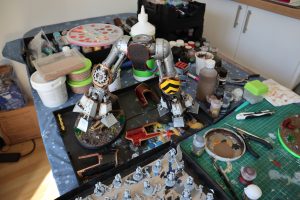 As you can see, he has taken over the whole kitchen table with it!
I have also made a YouTube video about what our day looks like during lockdown, here it is for you.
I hope that you are all staying safe and are coping ok with all that is going on. It is a strange time, but we will come out of this.
Stay safe everyone.