How Knitting Helped Me Cope With Depression
This blog uses affiliate links and banners. If you purchase something from them I will receive a commission at no cost to you. I am part of the Amazon Associates program. As such, I receive a commission on qualifying products.
*  Trigger Warning – This post talks about depression. *
I have written about depression before, and I have written about knitting before. But, I don't think I have written about how important knitting was to me feeling better after a very dark time. I thought it was important for me to share this as it may help others who are not in a great place with their own mental health.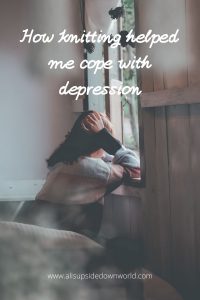 My Depression
18 months ago I was in a very dark place. This was due to various issues from the past and because I was still finding it hard to cope with the death of my dad a couple of years before. I did not have a shred of self-worth left and couldn't understand why people wanted to be around me. With (quite a big) nudge from my hubby, I got the help I so desperately needed. That man has been such a rock through all of this when he could have easily just walked away.
A couple of months into my recovery, I was still off work and at a loss with what to do with myself most days. It was then that one of the mental health workers that were working with me said to think about starting a hobby or restart something I used to do before. She said it would be good to keep my brain occupied instead of it drifting to a bad place.
Instead of brushing this thought off like I usually would, I actually listened and thought about what I could do.
Finding Knitting
I learned to knit when I was a kid and have picked it up off and on during my adult years. I decided to go with this as you have to concentrate a bit and it would keep my hands busy (and it wouldn't cost too much). Then, I bought a couple of pairs of knitting needles, some wool and a couple of knitting magazines for inspiration. As I looked through the magazines at all the things I could make I realized this was definitely something I could see myself doing longterm.
When I next saw my mental health worker, I told her that I had been knitting and that I was really enjoying it. The next thing she said scared me to death. She said I should join the knitting group at the local cafe where I spent a lot of time. The thought of doing this really freaked me out, but I thought if I could do it, it would show how strong I really was. On the day I decided to go along, I first spoke to the cafe owner and she introduced me to the group, this really helped me to feel at ease having someone around that I was familiar with.
Joining Knitting Groups
The ladies in the group were lovely, they asked me about myself, but didn't pry too much. They took me for who I was there and then. During the group, I got talking to two of the ladies who told me about another craft group that they went to and invited me to go along the next week. Although the ladies were lovely, I wasn't sure what to do. Joining one group was one thing, but having to join another group so soon felt too much.
With some gentle encouragement from my hubby, I did go along. I was shaking walking in, but straight away I was welcomed warmly and the ladies were so glad that I did go along. This group was slightly different as it was a more generalized craft group. There were people knitting, crocheting, drawing and some just came to have a chat. Every so often they do a group activity. So far I have made denim flowers, leather journal covers and had a go at Japanese line painting.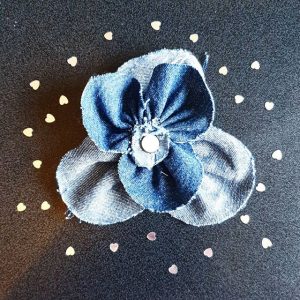 A little time for reflection
Halfway through the session, one of the ladies talks about a verse or poem that has made them think about recent goings-on, then a piece of music is played why we all sit in quiet reflection. The quiet reflection was really nice. I thought it may bring on dark thoughts sitting there like this, but the music is always so uplifting my thoughts never go that way. This group has helped me so much. Everyone moves around and talks to everyone at some point, no one is ever left out. Between all the lovely ladies, there is always someone who will listen and try to help.
A hobby for life
Even on the days when I don't go to one of these groups, I do some knitting. I find it very relaxing. If I am feeling particularly stressed it helps me to calm down. I read a lot of knitting magazines and watch knitting streams on Twitch which give me so many ideas of things to make in the future. I do get a bit over-excited when I see some things and have to start on them straight away, even if I am halfway through a project! This means that I quite often have at least two or three projects going at a time.
I cannot imagine not having knitting in my life now. It helped me through one of the darkest times of my life and helped me to make some wonderful friends. I would really recommend starting knitting or doing some other kind of craft if you are low or going through depression. It is calming and it is a great release for all the thoughts and feelings that you would usually hold in. And who knows, you may get lucky like I did and make some wonderful friends too.
Photo by Surene Palvie from Pexels 
Knitting, and some other hobbies, also really helped me to keep busy during lockdown. This stopped me from feeling so anxious about everything as I was to busy to think and more importantly, stopped me from over-thinking things too much.
Do you knit or have another creative hobby? Does it help you in any way? I would love to hear about this.
Stay safe everyone.