This blog uses affiliate links and banners. If you purchase something from them I will receive a commission at no cost to you. I am part of the Amazon Associates program. As such, I receive a commission on qualifying products.
I have been procrastinating about whether I should go self hosted or not for a while now, and I have finally taken the plunge.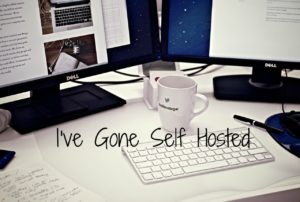 Admittedly, I was very scared about making the change. It is a big change to make, and all I could think about was all the things that could go wrong. But after more thinking I realised that if I want to move forward with this blog, the changeover was needed.
Stupidly, I decided to make the change on a week where I was feeling a bit down and I was very busy. I changed over myself, and I have to say it has been quite stressful. Before this, I didn't know anything about WordPress, which hasn't helped. I've been reading lots of articles on Pinterest to help me with all this.
I think the blog is just about where I want it. There are a few bits that need tweaking, but so far, so good (I think). Getting a new header made is the top of my list. I've coaxed my friend into helping me design something. However, it will probably be a week or two before it is up.
Plugins have me a little confused at the moment. Some of them are quite obviously helpful. However, some I am not really sure what they are and if I need them. More article reading needed here. If any of you have any plugin recommendations that you think that I would find useful, I would be very grateful. Also, if you have any suggestions on how I could make my page better, I would welcome them.
Now that I have made the change, I am happy that I have. I can see more possibilities with the blog and a lot of room for growth. I can see more of my time being taken up with writing and blogging (sorry hubby), but I am determined to make it as great as I can.
I'm very excited about making this blog a success and continuing to make blogging friends. I hope that you will all be coming along with me!
Take care everyone.