This blog uses affiliate links and banners. If you purchase something from them I will receive a commission at no cost to you. I am part of the Amazon Associates program. As such, I receive a commission on qualifying products.
AD – This blog uses affiliate links. If you purchase something through them I will receive a small commission at no cost to you.
With it being the start (nearly) of a new year and a new decade, I have been thinking about what I want to accomplish with my blog. I wrote a review of 2019 and what I hoped for 2020 and covered in that post what I would like to do. I thought it would be good to write a monthly review of what is going on with my blog to make me accountable and to show what is working and what isn't.
Blog Posts.
January was ok-ish for the number of posts I published. I say that because a few of the posts I published were collaborative posts, I didn't produce a lot of my own content. This is something I want to improve in February. I need to get much stricter with myself when I sit down to write, I am far too easily distracted lol. The collaborative posts are ok, a girl has gotta earn some cash, but they don't show who I am. I want to try and get my personality to show through more, I do have quite a nice one! My favourite post that I wrote in January was Personalised Crystal Healing Bracelets. I loved the bracelets my friend made for me so it was a joy to write the post.
January blog views.
My blog views are not huge, but they are growing a little. In January my blog views went up by over 200. Now, I know for some this is nothing, but for me it was huge. How did I get this increase? By scheduling my blog and Pinterest posts. I use Social Oomph (sign up with my referral code here) to schedule posts to Twitter and Tailwind  to schedule to Pinterest. Because I did this more regularly, my posts were being seen more. I've also joined a few groups on Facebook that I can share posts in and I have just signed up to Reddit too. I'm hoping next month that I will be more consistent in posting and posting my own content.
Social media
My social media growth in January was a bit mixed. On Twitter, Pinterest and Facebook there wasn't really any growth. On Instagram, I aimed to get 10 new followers a week, not a huge amount but, I thought it was a start. I managed 39 which was only a few off my target, I am quite happy with that. I've been posting everyday and posting to stories as well. The thing I need to do a bit more is to engage with other people a bit more. This is the case with my other social media channels. I need to post regularly and interact and engage with others.
YouTube
I know that YouTube is not strictly my blog but, it is part of my blogging business. My YouTube channel hasn't seen any real growth for a while as I lost my confidence in front of the camera when I put all the weight on. Now that I am losing weight and feeling better in myself, I am going to give YouTube a proper shot.  I have decided to stick to one topic rather than making videos about all different things. I am also going to give my channel a little makeover and change the name to suit the new topic. Next month I will be able to tell you how it is going so far. I know it is going to take a while to see massive growth on YouTube but, I am in it for the long run!
Here is the link to my channel now, if you subscribe, you will see the new changes as they happen.
Overall, January was not too bad of a month for my blog. There is a lot of improvement to be made but, I am moving in the right direction. For once, I am feeling positive about my blog and YouTube channel and I am excited to get started with it all.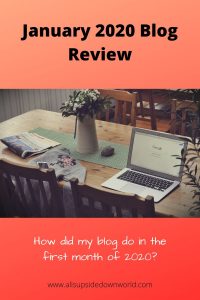 Take care everyone.