Jouellerie Jewellery Review
This blog uses affiliate links and banners. If you purchase something from them I will receive a commission at no cost to you. I am part of the Amazon Associates program. As such, I receive a commission on qualifying products.
I was lucky enough to receive some pieces from Jouellerie to review, and I can't wait to share my thoughts on each item I received.
My taste in jewellery is a little bit alternative. I love jewellery decorated with skulls, snakes and dragons, but that doesn't mean that I don't also love a bit of sparkle too!
Although nowadays, I have to watch what I buy as Booey quite often takes a shine to it and I "lose" it.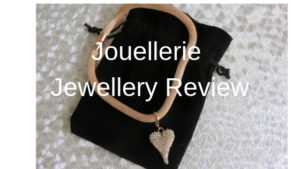 It can be hard to find nice jewellery and accessories that are affordable and good quality. I was delighted to find Jouellerie.com.
This site is filled with beautiful jewellery at great prices- and they have everything from pendants to rings. There is such a fantastic choice of jewellery- and all at great prices.
I love the crown earrings I received from Jouellerie. I don't actually have a decent pair of stud type earrings, so these were perfect for me.
The crown design around the stone is really cute, and it made me feel just like a princess!
The 5 row pave` bracelet is beautiful and very sparkly. I love the classic design, as it is simple but looks great. This is the perfect accessory for an evening out or a nice dinner.
The classic onyx bracelet is also super pretty and I love the ringed design around the middle. It has a magnetic clasp which makes putting it on and taking it off really easy, and I loved this feature.
This is also a simple design, but it adds a lovely bit of sparkle to any outfit.
The Jouellerie ice set is amazing! I love the cute little studs and the bracelet is so sparkly. The bracelet is elasticated so it easily fits on any wrist, and it will be great if I want to lend it to friends and family.
I do love a chunky bracelet- just a personal preference- but I love them. It's not heavy either, and it can be worn for quite a while without irritating me.
Now for my favourite piece. I am absolutely in love with the Artemis necklace! This also has a magnetic clasp, which means it is easy to put on and take off.
I would say this counts as a choker as it is close around the neck (but not too tight). The heart design isn't something I would usually go for, but I fell in love with it the second I saw it.
Booey loved this Jouellerie piece too, so I am definitely going to have to keep a close eye on it!
All the Jouellerie jewellery pieces came in lovely soft black pouches, and I thought this was a lovely little touch- especially if the jewellery is a gift for someone else.
Overall, I was impressed with all of the Jouellerie jewellery pieces I received for review.
There are so many lovely items available from Jouellerie- and all at a great price too. There is also a great selection of men's jewellery too.
Take care everyone!
Disclaimer: I was sent the jewellery by Jouellerie for the purpose of this review, all opinions are my own. This post contains affiliate links, if you purchase anything through them I may receive a commission at no cost to you.