Making Flower Crowns With Crafts & Giggles
This blog uses affiliate links and banners. If you purchase something from them I will receive a commission at no cost to you. I am part of the Amazon Associates program. As such, I receive a commission on qualifying products.
Over the last few months, I have been suffering from depression. One of my mental health workers suggested I find a hobby to keep myself busy. I used to knit a bit, so I figured I would start doing that again. I had a few balls of wool and needles at home already, so I started making a few simple things. With encouragement from my mental health worker, I went along to a local knit and natter group. Whilst there, a couple of the ladies told me about another group they go to that is more about crafting in general. I went along and really enjoyed it. Now I have a new-found love of all things crafty. So, when I had the opportunity to go along to a Crafts & Giggles flower crown making workshop, I jumped at the chance.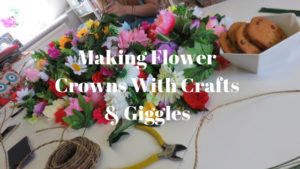 Crafts & Giggles are specialists in craft parties. They cater for hen parties, corporate events, kids parties and birthdays. You can make everything from flower crowns to fascinators. If you have an upcoming wedding you can also make your own bunting or vintage style buttonholes. And the best bit is that they bring the party to you, there's nothing (except a little space) that you need to get.
I went along to Crafts & Giggles office in Poole for a flower crown making workshop. To say I was a little bit excited was probably an understatement! I was also a bit nervous as I always am when I go anywhere (thank you very much anxiety!).
As soon as I walked in, I saw a beautiful pile of silk flowers in the middle of the table. There were so many different colours and types of flowers to choose from to make our crowns. Katie, from Crafts & Giggles, was there to show and help us make our flower crowns.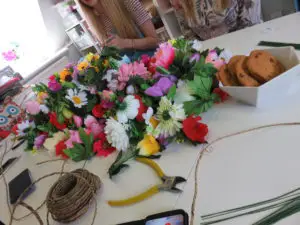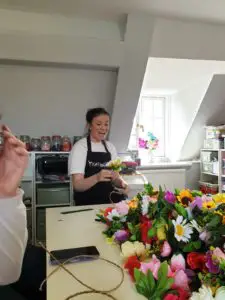 We started off by measuring our heads so that the crowns would be the right size for each of us. Next, we started to pick out the flowers that we wanted on our crowns. We put them in bunches of 2 or 3 and then wrapped some wire around the stems to hold them together. I chose purple and white flowers for my crown. We placed the bunches around the crown so we could see roughly where we wanted them and how they would look.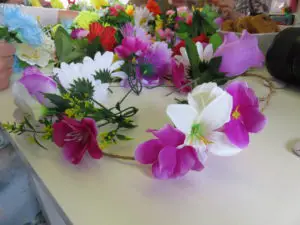 Now it was time to fix the flowers to the crown. Again, we used the wire to do this. We had to try to lay the stems flat across the headband, otherwise, the stems and wire would be digging into our heads. This was a bit fiddly but not too hard to do.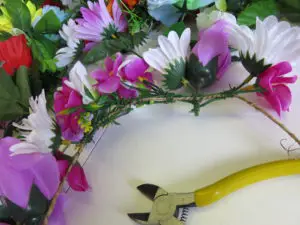 Once all the flowers were in place, we wrapped green tape around it all to hide the wires and stems a bit. The tape didn't seem sticky, but once put in place it dried and held it all nicely. For a finishing touch, we added ribbon to the ends of the headband wire to tie it together around our heads. And our flower crowns were complete! I have to say, I was quite impressed with my effort, I didn't realise I had so much creativity in me!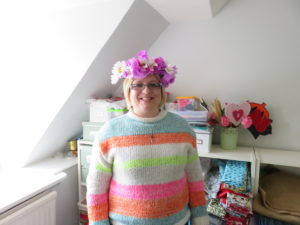 Although it did take a bit of concentration, the flower crowns were great fun to make. I really did enjoy myself.
I can see how this would be so much fun for a hen party or a birthday party. As well as having a fun time, you have something special to take away with you.
Craft parties are something different and fun for all ages. I will definitely think about these when I have a special event coming up.
For more information on Crafts & Giggles you can visit their website here.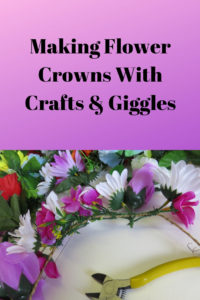 Take care everyone.
Disclaimer: I was invited along to the Crafts & Giggles workshop for the purpose of this review. All opinions are my own.