Mistakes You May Be Making With Your Website
This blog uses affiliate links and banners. If you purchase something from them I will receive a commission at no cost to you. I am part of the Amazon Associates program. As such, I receive a commission on qualifying products.
*This is a collaborative post.*
These days, the sky's the limit when it comes to finding online success. With more and more people connected to the web than ever before (and increasingly spending a lot of time online), it's more than possible to run a successful website, either as part of your home-based business or just for a bit of fun. However, while there's a lot of potential, success is not always guaranteed. After all, there are many, many websites out there that web users can visit. If you want them to spend time on yours, then you'll need to offer something of value. 
Even if you think you have a good idea, it's possible that you're inadvertently turning visitors away because you're making some common mistakes. In this post, I'm going to run through some of these mistakes and show how you can avoid them.
Old-School Design
A visitor will learn a lot from your website just by seeing the homepage. What's the giveaway? It's all about the design of your website. While you don't need to have a futuristic design (in fact, you probably shouldn't), it's important that the design isn't too old-looking. People always make snap judgments when they visit a website; browsing the web would be too laborious if they didn't make these judgments. For website owners, this means they can't afford to make any errors with the design. If you're planning to make a business out of your site, it is worth paying for a premium theme to make your website look as good as possible.
Lack of Trust
Trust is becoming increasingly important online. Sadly, there are just too many websites that are not trustworthy. If you're going to win your visitors over, then they shouldn't have any doubts about trusting you and your website. So how can you ensure that people believe in your site? It's simple enough. First, make sure you have all the latest security certificates and protocols for your website. Second, make sure that they can contact you. You can visit the click4assistance website to learn how to incorporate live chat software into your site. People will be much more inclined to trust your site if they have they can speak with a representative of the site in real-time. Finally, post high-quality, well-researched content — people must trust that you know what you're talking about. 
No Updates 
Finally, remember that it's important that you're continually updating your website. All too often, website owners just leave their website sitting there. But there's a lot of value to adding new content and tweaking the design every now and again. This shows that your site is actively managed, rather than inactive. Plus, the overall success or failure of your website will depend on the number of repeat visitors that you get (rather than just one-time visitors). If they know that the site is always receiving updates, then they'll be more likely to return.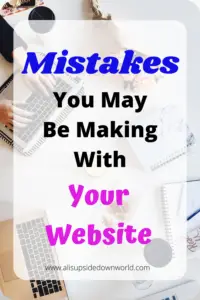 Stay safe everyone.