This blog uses affiliate links and banners. If you purchase something from them I will receive a commission at no cost to you. I am part of the Amazon Associates program. As such, I receive a commission on qualifying products.
It has been a while since my last money saving update, so I thought I would let you know how things are going. I'll be honest, I haven't saved as much as I would have liked to over that last few months. I have had both the kids birthdays and the summer holidays, these were costly lol. But, even though we are on the road to Christmas (yes I said it) I am determined to get saving again.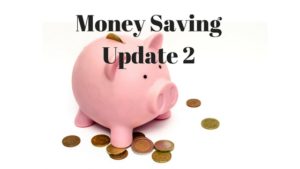 Another thing that has affected my saving plans is a change in our personal circumstances. Ben Bob has moved out and hubby got a pay rise. These combined mean that we are no longer eligible for any benefits. This is taking a while to adjust too (especially Ben Bob moving out). We have made lists of the what day the bills are due so we can always make sure there is enough money in our accounts to cover it. I think a couple more months and we will have it down.
Our money jar saving has been rubbish! There is nothing at all in the pound jar and not much in the penny jar either. We went to Cornwall for a few days during the summer and opened both jars and used the money inside to pay for our food. This worked out well in the fact we didn't have to pay on our cards and was almost like we weren't paying for it. I am hoping to save enough in the jars to put some money in the bank before Christmas (bloody hell I said it again lol).
The surveys/receipt collection sites are going well for gift cards (see how I earn gift cards online here). With the Swagbucks site I have starting getting PayPal instead of Amazon cards. This has given me a little extra money to play with each month. I used some of my Amazon vouchers to buy some of Ben Bob's birthday presents. A little delivery for myself may have arrived too, but it was all stuff I needed honest lol. I have joined another survey site, I will write about that when I have used it more and know it it's any good.
Skimming our bank accounts has been going well. We really haven't been in a position to put much into our savings, but skimming money here and there from our current accounts means we have been putting a little something in there. Theres not enough for a holiday, but if something happens we have a little bit to fall back on.
A couple of months ago I changes our gas and electric tariffs. We are paying quite a bit less that we were, so this is a big bonus. We also have a smart meter so we can actually see what we are using. This really makes you think about what you are using around the house!
I am also going to set a budget for our grocery shopping. We never spend an excessive amount on food, but I think we can cut our bill down a little. I am also going to look into meal planning and cooking from scratch more.
That's about it I think. Not the best at saving, but not the worst either lol. Hopefully my next update will be a lot more positive.
Take care everyone.