Monthly Roundup August 2019
This blog uses affiliate links and banners. If you purchase something from them I will receive a commission at no cost to you. I am part of the Amazon Associates program. As such, I receive a commission on qualifying products.
**This blog uses affiliate links. If you purchase something through them I will receive a commission at no cost to you.**
As usual, I am slightly behind with my posts, the last few weeks have thrown up a few things that I wasn't expecting and it has upset the balance in me a bit. Nothing majorly drastic, it just seems like it has been one after another. Things are back to being as normal as they ever are here, onwards and upwards!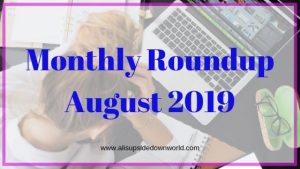 Blogging
August has not been great for me blogging wise. With everything we have had going on, I have found it hard to want to blog, hence the lack of posts from me. We are making a few plans as a family and they have filled me with excitement and motivation. I can see clearer than ever what I want to achieve and how to go about it.
I took part in a trial for a new affiliate marketing course during August (in exchange for a testimonial) that was really good. I still have a little left to complete, but I am starting to implement bits that I have learned, "This time next year Rodney, we'll be millionaires!" Lol.
I also paid for the Pinterest services of The Blog Assistant. Jade is a Pinterest guru! She has taken my account and made some changes, done some SEO work, etc. on it and my monthly engaged viewers have more than doubled. She has also written a plan for me to move forward with and hopefully keep improving my stats. I highly recommend her service.
I also have a couple of review posts coming up, and I am going to the Blog On Toys/Christmas conference next weekend so, I will have a lot to write about.
Depression
A few weeks ago I had one of my medications changed as the other was not helping and making me feel worse. I have been on the new one for nearly a month now and feel so much better, it also helps me get to sleep easier. There have been a few stressful days over the last month, but I have coped with them. I went to see my psychiatrist last week and he has signed me off from their services now as he thinks I am doing really well. I am feeling a lot better than I have done for a while now. As I am feeling better I am not going to write about depression in these posts for a while. I will instead be writing about my weight loss journey.
Booey
Booey is still staying at her dad's a lot, but we are spending more and more time together and she has been staying here more too. After a bit of space, we are finding a much better understanding of each other and we are talking openly and honestly with each other. I'm really enjoying the time that we are spending together, we are having a lot of fun. We have had a girly movie night where we watched Dirty Dancing and Grease. I love that she loves these films too. She wants to watch Footloose with me too which I cannot wait for!
Booey is back at school now and is in her first year of doing her GCSE's. So far she is enjoying the subjects she chose, but we are only a few weeks into the new school year.
WW (the new weight watchers)
I have really been struggling with my weight since Christmas. In that time I have put on almost 3 stone, gone up 2 dress sizes and just generally feel gross. A big part of the weight gain was one of the medication I was on as it increased my appetite.
I joined WW towards the end of August. I'm really enjoying it, so much so that I am now helping with the setting up, etc. I've found the plan pretty easy so far, though I have had a couple of naughty days! I have lost 6lbs so far which I am pleased with. I was hoping to reach the half a stone mark this week but my weight stayed the same.
A few of my friends from work go as well which is nice and it is a nice bit of extra support at the groups as well. Hopefully, when I write my next roundup I will have lost a bit more.
Knitting
As with my blogging, my knitting has fallen a little by the wayside in August. I am just not finding the time for it at the moment. I need to organize myself a bit better so that I have more time for it. In the most recent issue of the knitting magazine I get, there is a pattern for skull bunting. I thought this would be lovely to decorate the house with in October. I need to get my needles moving again so that I can get it finished in time!
I'm still knitting my jellyfish cushion which I am determined to finish soon! I may have to hide it when I am finished so that Booey doesn't nick it off me!
Reading
I still haven't finished watching you, as I am still a bit obsessed with Readly! There are so many magazines on there and I am easily distracted lol. I'm going to have to be stricter on myself when I read in bed and split the time between the 2 lol.
Whilst the next thing I am going to mention is not strictly reading, I'm going to include it in this category. I've recently bought myself a Dingbats Bullet Journal from Amazon, I also bought some nice pens to go with it. I have wanted to get one for a while now after seeing so many lovely Pinterest posts on them. My lettering etc is not great, but I thought it would be a great way to track my weight loss and blog posts I am working on.
It seems August was the month for buying stationery products, as I also bought a happiness planner. I thought this would go well with my gratitude journal. I love it, there are positive quotes on the pages and weekly sections to say what went well and what didn't. It really makes you think about what you are doing and how you handle situations.
Overall, August was a bit more miss than hit, but I know I can turn things around over the next month. If I get myself more organized that will be a big help.
Please pin me for later.
You can read my monthly update for July here.
Take care everyone.