An Overdue My Weight & I Update
This blog uses affiliate links and banners. If you purchase something from them I will receive a commission at no cost to you. I am part of the Amazon Associates program. As such, I receive a commission on qualifying products.
It has been a very long while (almost a year) since I last wrote a my weight and I post. I decided to stop writing them as I was going through some medication changes and some personal stuff and my weight wasn't my top focus. The posts were put on hold, but I was still going to the gym and trying to watch what I ate. The healthy eating didn't last too long! Things have been very up and down and I think it is time to start taking responsibility for my weight again.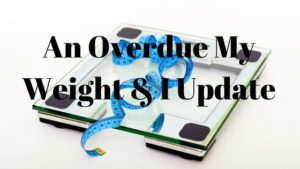 At the end of November I put a video up on YouTube explaining that it was time for me to face up to my weight again. I couldn't keep kidding myself that I was ok with how I was looking and feeling. In the last few months I have had people comment that I have put on weight, I have even been asked if I was Pregnant (never ask that question people!). This obviously did nothing for my self-esteem.
I have been working more over the last few months which has made it hard to find time (or the enthusiasm) for the gym and easy to eat quick unhealthy meals. The scales have not come out in all this time as quite frankly I am a little scared of the number that I am going to see!
But now I am back in the right mind-set and ready to see this weight gone.
I have once again cut out fizzy drinks from my diet, although I have allowed myself one when I have been out for dinner. Food wise, there is going to be a lot of chicken and vegetables in my future! We still have a lot of sweets and biscuits left over from Christmas. I have been pretty good and only allowed myself to eat a few here and there. I'll probably keep doing this until they are all gone, then it's no more sweet stuff for me!
Going to the gym more is going to be a little harder to figure out. I am still working extra shifts here and there, so finding time for the gym isn't that easy. Plus I have to work around Booey as well, as much as she would love to, she cannot come to the gym I go to now. But, I am also hoping to go swimming with Booey a bit more, so if I can't go to the gym at least I will still be getting some exercise.
As well as losing weight I really want to improve my general fitness. At the moment it's just a bit crap! I would love to be able to go out for the day with Booey and not be knackerd after 10 minutes of walking!
It's not going to be easy, I am sure at some point I will slip and have a little binge then spend the next few days regretting it, but on the whole I am feeling good about it. I have my determination back, lets see what I can do with it!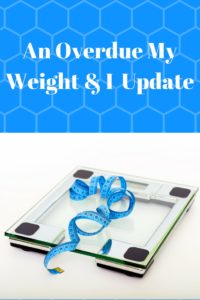 Take care everyone.